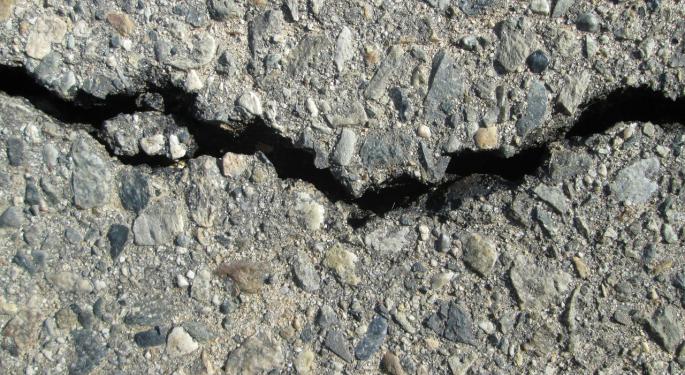 Taylor Devices, Inc. TAYD 0.1% is a name many investors aren't necessarily familiar with, although this should change based on not only the company's interesting history and value proposition to society, but the fact that shares are up nearly 60 percent over the past year.
Taylor Devices is a U.S.-based company that manufacturers and sells shock absorption, rate control and energy storage devices for use in machines, equipment and structures.
Benzinga had an opportunity to chat with Taylor Devices CEO Doug Taylor about his company's history and how it helps dealing with earthquakes.
History & Present Day
Taylor told Benzinga the company was originally tasked with providing protection to large U.S. military systems, ships, missile bases and other installations against a nuclear attack during the Cold War. Once the Cold War ended in the 1990s, the U.S. government granted the company permission to sell its technology to the general public.
"The government kind of chuckled at us, okay, how are you going to sell a nuclear weapons isolator to the public?" he said. "Well, the answer was for earthquake protection. So the basic product we sell now for protecting buildings and bridges against earthquake damage is a combination of what was used during the Cold War to protect our weapons systems combined with a few things we learned with NASA on the space shuttle program."
Taylor said his company began collaborating with the National Center for Earthquake Engineering Research and after showcases the company's technology, business orders began to come in.
In fact, Taylor boasts that he sells seismic protection systems in which surgeons in California can actually perform brain surgery during an earthquake without feeling the effects. Overseas, the company outfitted Corning Incorporated GLW 0.15%'s facilities so the maker of glass screens for electronic devices can get through earthquakes without having production disturbed.
Taylor added that his company has provided earthquake related protection to more than 650 buildings and bridges across the world. Sixty to 70 percent of business is domestic with the balance across Asia, Taiwan, Japan and china.
Recent Earthquakes
An earthquake disaster in Italy claimed the lives of at least 247 people this week.
According to Taylor, the "worst place" for earthquakes in Europe is in Romania, as the Bucharest area has suffered from several earthquakes with a magnitude in the 8's. Adding to the danger is the fact that many buildings in the country are concrete, which is "very prone to coming down" in an earthquake, especially if it's an older building or hasn't been properly constructed.
On the other hand, steel framed buildings can bend and are more resilient to earthquakes.
In terms of Italy, there is a "minor earthquake zone" around the Mediterranean, but it's a lot worse in the Middle East region than it is in Italy. However, many buildings in Italy are quite old and made of concrete so an earthquake of a magnitude 6.1 could cause a lot of damage. By comparison, in a region such as California which is used to earthquakes, a similar magnitude earthquake won't even disrupt many from their tasks.
When asked what represents the next leg of growth for the company, Taylor pointed out that many developing countries are now developing cities. Many of these regions are in emerging markets, which are prone to earthquakes.
© 2016 Benzinga.com. Benzinga does not provide investment advice. All rights reserved.