EUR strengthened against US dollar following the comments from ECB president Mario Draghi. The central bank left the monetary policy unchanged holding benchmark interest rates unchanged at record low of .25%, marginal lending rate at .75% and its deposit facility rate at 0. 
On the 4 hour chart, the pair crossed the resistance at 1.3967 after the ECB decision to keep the monetary policy unchanged was released.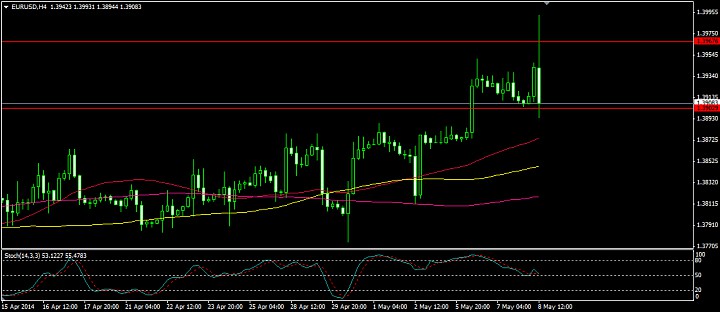 The pair came down after Draghi mentioned his outlook on economy. Draghi said that moderate recovery of euro zone economy continues to proceed in line with the ECB's previous assessment. ECB continues to see prolonged period of low inflation followed by an increase in inflation rate. The risks surrounding the economic outlook still heading towards downside and inflation will remain low at current levels in coming months well below the bank's target. He also mentioned that the bank will closely monitor exchange rate developments.According to him the exchange rate seems to be a major concern. ECB might act in June and if they act, they will most likely cut the refinance rate or announce a negative deposit rate.
The key support levels for the pair after decline are 1.3879 and 1.3864.