As we previewed exactly 24 hours ago, Buffett's Berkshire Hathaway said it will exercise warrants to swap its preferred Bank of America shares for 700 million shares of BAC common stock, making Buffett the largest shareholder, surpassing BlackRock, Vanguard and State Street . Buffett is also the top shareholder at Wells Fargo.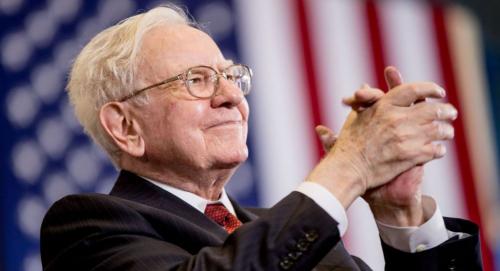 Buffett exercised his warrants, which were due to expire in 2021, to swap $5 billion in preferred stock worth about 6% of the company for common stock at $7.14 a share, less than a third of yesterday's closing price of $24.32, effectively translating in a profit of $12 billion for the Omaha octogenarian. The decision was prompted by the latest Fed stress test, which allowed the bank to hike its dividend by 60%, from 30 cents to 48 cents. BofA also announced its plans for a record $12 billion stock buyback, almost immediately after the Federal Reserve gave it the green light on Wednesday, while also approving the capital-return plans of 32 other US banks that received the SIFI designation.
As we noted yesterday, in his February letter, Buffett said that an increase in BAC's dividend above 44 cents would likely prompt him to swap Berkshire's preferred shares in the second-largest bank into common shares now worth about $16.7 billion – more than tripling a $5 billion investment made fewer than six years ago.
Buffett, the world's fourth-richest man with a net worth of $76.1 billion, according to Forbes, bought $5 billion of Bank of America preferred stock with a 6 percent dividend, or $300 million annually, during a fire sale in August 2011 as the bank worried about its capital needs. The purchase included warrants to acquire 700 million common shares at $7.14 each, a 70% discount to Thursday's closing price.
The preferred shares had little downside, so long as Bank of America stayed solvent. But they had no upside either. With a change in Berkshire's shares, Mr. Buffett is effectively saying that he would like to take part in possible gains on Bank of America's stock as well as enjoy a steady dividend. After the exchange, Buffett's firm, Berkshire Hathaway, would own about 7% of BAC's common shares, giving it a significant role in corporate governance issues from compensation to the election of new directors. Vanguard Group, whose 652.4 million shares give it a 6.6 percent stake, is now the bank's second-largest shareholder, according to Reuters data.
Buffett – America's de facto private sector "lender of last resort" during the financial crisis - made more than $25 billion of high-yielding investments between 2008 and 2011, in financially troubled lenders like General Electric Co. and Goldman Sachs Group, none of which would have paid out had the Fed not stepped in with a multi-trillion taxpayer funded rescue of the US financial sector.
The decision raises ethical hackles for America's favorite homespun billionaire, who loves to play the part of benevolent philanthropist even though he's effectively cashed in on the financial crisis, and will now profit from a bank that was complicit in kicking thousands of mortgage customers out of their homes, believing it easier to foreclose than work with borrowers to modify the terms of their loans.