Days after Zero Hedge broke the news that CNBC had just suffered its worst ever ratings year in 2014...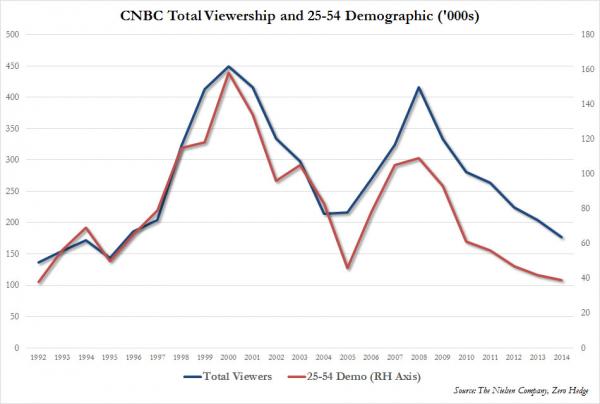 ... we weren't at all surprised to read in the WSJ that "CNBC will no longer rely on TV ratings specialist Nielsen to measure its daytime audience, beginning later this year. Instead, it has retained marketing and research firm Cogent Reports for the task."
WSJ further reported that "CNBC's daytime Nielsen ratings, which always have been relatively small, have fallen sharply over the past decade. In 2014—its least-watched year since 1995—CNBC had an average audience of 177,000 people from the hours of 9:30 a.m. and 5 p.m., according to Nielsen. That is down 17% from an average of 214,000 viewers in 2004, and it is a drop of 13% from 2013."
It has gotten so bad WSJ is now actively losing leverage, and money, when discussing ads: "Executives at CNBC said they were leaving money on the table with advertisers and they needed to make a change. "Nielsen has never measured us accurately," said CNBC President Mark Hoffman. "If we can't count the people the right way we can't get paid the right way.""
The problem, for Mr. Hoffman and CNBC's ad revenues, is that Nielsen is still counting it audience in whatever way every other TV network that uses Nilsen is ok with, annd the results are, well, unfortunate.
As the following update of CNBC's perhaps most popular (if least watched, lagging even Mad Money) day breaking segment, SquawkBox, the show that features Joe Kernen, Becky Quick  and Andrew Ross Sorkin just suffered its worst quarterly Nielsen rating in the show's history.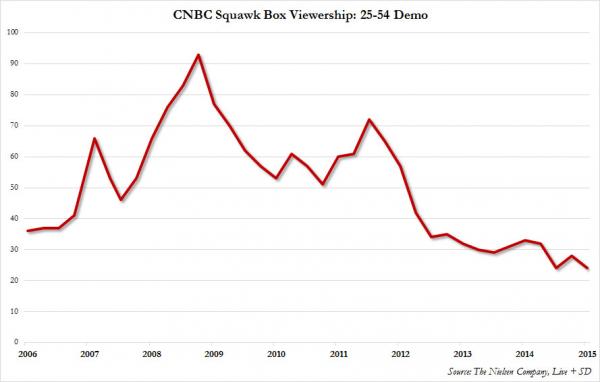 Perhaps moving to NYC from Englewood Cliffs in order to procure more "valuable" guests wasn't quite the viewership panacea CNBC had hoped it would be, unless of course said move was merely predicated by budgeting considerations as a result of the above.