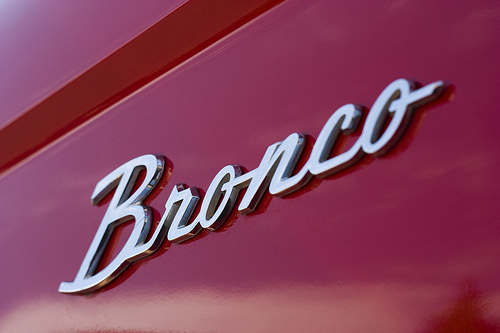 Fans of Ford's (NYSE: F) iconic Bronco model, rejoice!
According to Bloomberg, Ford may be reintroducing both the Bronco and Ranger models back into its lineup. This would mean to company would have answers to competing models to opposing companies like Toyota and Nissan.
The newest Bronco model, Bloomberg reported, will be composed of a pick up frame, but still resemble a mid-size SUV. Released in 1966, the Bronco has been deep-seeded in American culture for decades, despite its market hiatus.
The models will be assembled in a Wayne, Michigan plant, which, according to Bloomberg, will preserve union jobs.
"We will move production of the next-generation Ford Focus and C-Max, which currently are built at Michigan Assembly Plant, beginning in 2018," Kristina Adamski, a spokeswoman, said according to Bloomberg. "We actively are pursuing future vehicle alternatives to produce at Michigan Assembly and will discuss this issue with UAW leadership as part of the negotiations."
With truck sales at a high, this may just be the right move for Ford to see increased numbers in the upcoming financial quarters. The Bronco struck a chord with young people before, perhaps it can lure millennials.
For more business and financial news, click here.
*This is editorial content and expresses the opinion of the author.