General Motors (NYSE: GM) said that its U.S. sales fell 2.2% in October, as solid year-over-year sales growth for its truck and SUV lineups wasn't enough to offset a significant decline in sales of sedan models.
That fell short of the overall U.S. light-vehicle market's 1.3% year-over-year decline. It also fell short of Wall Street's expectations, though not by a lot: Analysts polled by Bloomberg had expected GM's sales to decline by 1.5% year over year, on average.
All that said, from an investor's perspective, it was still a pretty good month for GM. 
The new Chevrolet Equinox continued to pace GM's crossover sales in October. Image source: General Motors.
GM's new crossovers continue to shine
While GM's sales were down, there's good news behind the headline numbers: The groups of products that posted sales gains (pickups and SUVs) versus GM's year-ago results are more profitable, on average, than the products whose sales declined -- GM's car models.
Sales of GM's full-size Chevrolet Silverado and GMC Sierra pickups rose 11.2% last month, nearly keeping pace with the 15.9% gain posted by archrival Ford Motor Company's F-Series truck line. (Sales of the third big player in the U.S. pickup market, Fiat Chrysler Automobiles' Ram family, fell 3%. An all-new Ram 1500 is due early next year.)
GM's line of crossover SUVs, most of which were all-new in the last 18 months, followed up their big year-over-year sales gains in August and September with more gains in October.
| Model | October 2017 sales | Change vs. October 2016 |
| --- | --- | --- |
| Buick Enclave (new for 2018; see note) | 5,243 | 30.5% |
| Buick Encore (refreshed for 2017) | 8,972 | 25.2%  |
| Buick Envision (new for 2017) | 2,298 | (2.3%)  |
| Cadillac XT5 (new for 2017) | 5,961 | 19.5%  |
| Chevrolet Equinox (new for 2018) | 25,272 | 28.5%  |
| Chevrolet Traverse (new for 2018; see note) | 11,098 | 1%  |
| Chevrolet Trax | 6,054 | (30.2%)  |
| GMC Acadia (new for 2017) | 9,012 | 5.2%  |
| GMC Terrain (new for 2018) | 5,046 | (20.6%)  |
| Total GM crossovers | 78,956 | 8.5% |
DATA SOURCE: GENERAL MOTORS. VEHICLES MARKED "NEW" ARE MODELS THAT HAVE BEEN INTRODUCED TO THE U.S. MARKET AS "ALL-NEW" SINCE THE BEGINNING OF 2016. THE BUICK ENVISION WAS FIRST LAUNCHED IN THE CHINESE MARKET IN 2014, BUT IT'S INCLUDED IN THE "NEW" GROUP AS IT MADE ITS U.S. DEBUT IN EARLY 2016. ALL-NEW VERSIONS OF THE BUICK ENCLAVE AND CHEVROLET TRAVERSE just recently began ARRIVING AT DEALERS; SALES REFLECT A MIX OF OLD AND NEW MODELS. 
Note the big gain for the biggest-selling model on the list, the Chevrolet Equinox. GM launched the all-new 2018 Equinox earlier this year, and it has become a genuine hit, one that appears to be stealing sales from rivals like Ford's Escape and Edge and FCA's Jeep Cherokee.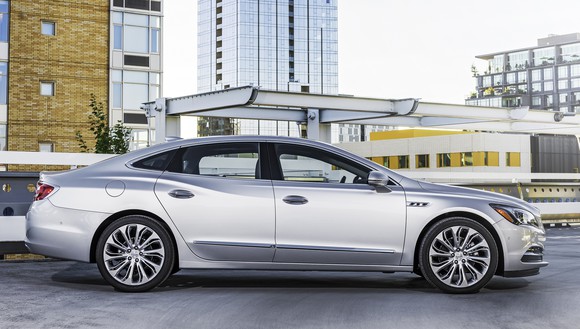 New last year, the handsome Buick LaCrosse sedan has sold quite well in China. But U.S. buyers have already lost interest: LaCrosse sales were down almost 44% in October. Image source: General Motors.
Car models are still struggling
The not-so-good news is that GM's coupe sedan models are having a tough time. That's not a surprise, as the ongoing consumer migration away from cars in favor of crossover SUVs is an industrywide trend.
But perhaps as a result of its beefed-up crossover lineup, GM's sedans are getting hit harder than many rivals'. Of the group, only the Cadillac XTS and the big Chevrolet Impala posted gains in October. Both cars are fleet favorites and likely benefited from the timing of deliveries to GM's fleet customers. 
| Sedan | October 2017 sales | Change vs. October 2016 |
| --- | --- | --- |
| Buick LaCrosse | 1,408 | (43.7%) |
| Buick Regal | 783 | (40.5%) |
| Cadillac ATS | 929 | (41.7%) |
| Cadillac CT6 | 796 | (39.5%) |
| Cadillac CTS | 779 | (23.9%) |
| Cadillac XTS | 5,961 | 49.6% |
| Chevrolet Cruze | 11,129 | (35%) |
| Chevrolet Impala  | 7,563 | 24.1% |
| Chevrolet Malibu | 14,647 | (9.3%) |
| Chevrolet Volt | 1,362 | (37.8%) |
Data source: General Motors. 
There was one more bright spot, though GM thinks of it as a crossover rather than as a sedan: GM's all-electric Chevrolet Bolt EV had its best month yet in October, with 2,781 sold. In fact, for the first time, the Bolt's sales appear to have outpaced the U.S sales of Tesla's three models -- combined.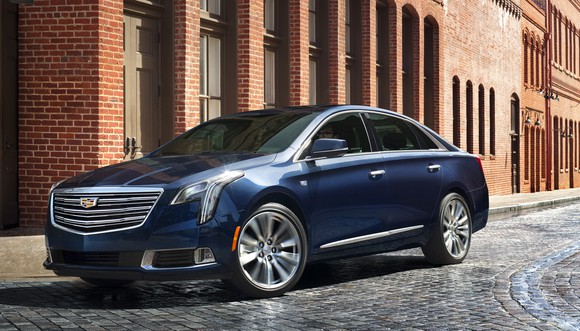 The big Cadillac XTS, refreshed for 2018, bucked the sedan sales trend in October. Image source: General Motors. 
What does this mean for profitability?
The profit margins on individual models are closely guarded secrets at any automaker, but we can get an idea of the effects on GM's profitability by looking at its average transaction price and incentives for the month.
GM said that its average transaction price in October, net of incentives, was just over $36,000. That's roughly flat from a year ago, despite an increase in spending on incentives. As a percentage of its average transaction price, GM's incentive spending in October was 13.5%, versus 11.7% a year ago. 
That's high -- analysts prefer to see that number below 10% -- but it's not excessive.
The upshot: GM's making the best of a slowing market
Here's the takeaway: The U.S. market's growth has stalled, and it's probably past its cyclical peak. But GM is making the most of the hand the market has dealt, finding sales growth with its in-demand trucks and crossovers to largely offset declining demand for sedans. That should help keep GM's margins strong as we move through the fourth quarter.
10 stocks we like better than General Motors
When investing geniuses David and Tom Gardner have a stock tip, it can pay to listen. After all, the newsletter they have run for over a decade, Motley Fool Stock Advisor, has tripled the market.*
David and Tom just revealed what they believe are the 10 best stocks for investors to buy right now... and General Motors wasn't one of them! That's right -- they think these 10 stocks are even better buys.
Click here to learn about these picks!
*Stock Advisor returns as of October 9, 2017
John Rosevear owns shares of Ford and General Motors. The Motley Fool owns shares of and recommends Ford and Tesla. The Motley Fool has a disclosure policy.