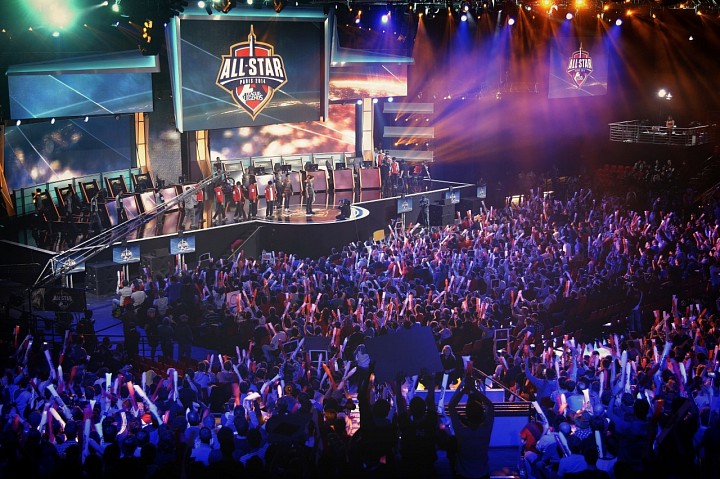 Electronic Arts (EA) is set to report Q2 results after the bell with a conference call slated for 5:00pm ET.
Cap IQ Consensus estimates Q2 GAAP EPS of -$0.14 w/revs of $1.18 bln ( +31.4% y/y).
Guidance
In their Q1 earnings release EA issued the following guidance:
Q2 loss of -$0.18.
Q2 revenues of $1.16 bln.

This includes GAAP net revenue of $955 mln with change in deferred net revenue (online-enabled games) expected to be ~$205 mln

Reaffirmed FY18 EPS guidance of $3.57/share.
Reaffirmed FY18 revenues of $5.1 bln.

GAAP total net revenue is expected to be ~$5.075 bln with change in deferred net revenue (online-enabled games) expected to be ~$25 mln
Heading into EA's Q2 earnings, investors will be looking for color on recent releases ahead of the holiday season. Specifically investors will be looking for details on EA's slate of annual sports titles which includes: FIFA 18(released 9/29), Madden 18 (released 8/25), and NBA Live 18 (released on 9/15). In addition to listening for sales metrics for EA's annual sports titles, investors will also be listening for color on Ultimate Team, and it's ability to drive increased engagement and monetization (Ultimate Team generates approx. $800 mln in annual revenue for EA). Similarly investors will be looking for color on EA's mobile efforts, specifically FIFA mobile, NBA Live Mobile, and others.
Looking ahead, investors will be looking for commentary and expectations regarding EA's upcoming releases for Star Wars Battlefront 2 (set to launch on 11/17) and Need for Speed Payback (set to launch 11/10). Additionally investors will be looking for additional details on EA's Visceral studio ramp down from October 17th, and a potentially updated timeline for their Star Wars game launch. Following this announcement on October 17th shares of EA closed 2.2% lower at $113.16/share.
Finally investors will be looking for color on digital sales, details on future e-sports initiatives with an emphasis on the Madden NFL Championship announced on August 21st. Additionally investors will be listening for upcoming new potential hardware for the Nintendo (NTDOY) Switch, and color on other new potential upcoming releases.
Q1 Recap
Reports Q1 earnings of $2.06 per share, may not be comparable to the Capital IQ Consensus of $1.90; revenues rose 14.0% year/year to $775 mln vs the $768 mln Capital IQ Consensus.

Digital net sales of $3.147 billion for the trailing-twelve-month period represents 63% of total net sales, up 23% year-over-year.
Ultimate TeamTM total unique player population grew 11% year-over-year.
BattlefieldTM 1 had more than 21 million players joining the game as of quarter end.
Monthly active players for The SimsTM 4 on PC increased more than 20% year-over-year.
FIFA Mobile unique player base grew to more than 95 million.
Since launching its first season, NBA LIVE Mobile has engaged more than 70 million unique users.
Analyst Commentary
Target lowered to $126 from $128 at Morgan Stanley (October 18th).
Needham reiterates Buy, reiterates $130 tgt. Firm notes that they are super-fans of EA and it remains a top pick among their media companies under coverage owing to its deep library of proprietary IP content, its (very) long sequel lifespans, rising margins, limited piracy, and relatively predictable revenue streams. What they think Wall Street is missing is that EA often trades down between October and the December-February period of the next year. It's their view (not popular) that EA trades on its GAAP EPS guidance. Since EA's FYE is March 31, EA's May earnings release date (when management updates forward-year guidance) has been the biggest month for EA shares for the past 2 years (October 11th).
Initiated with a Buy at SunTrust; tgt $133 (October 11th).
Initiated with an Overweight at Barclays; $129 tgt (October 4th).
Options Activity
Based on EA options, the current implied volatility stands at ~ 32%, which is 67% higher than historical volatility (over the past 30 days). Based on the Weekly Nov03 EA $118 straddle, the options market is currently pricing in a move of ~6% in either direction by weekly expiration (Friday).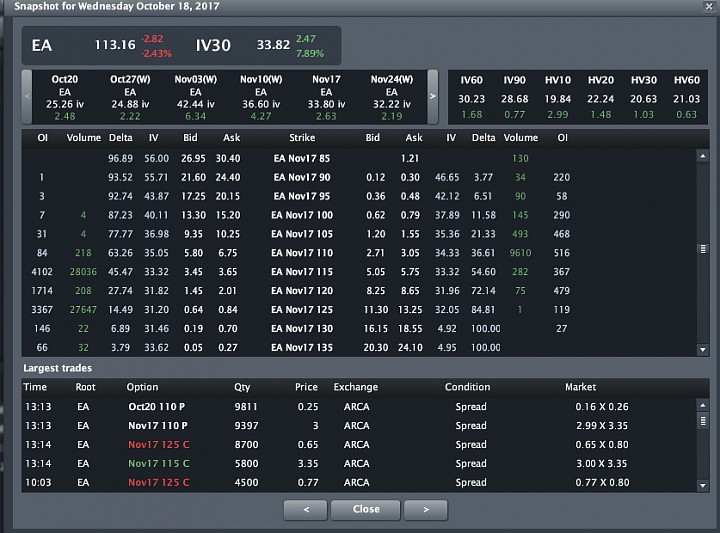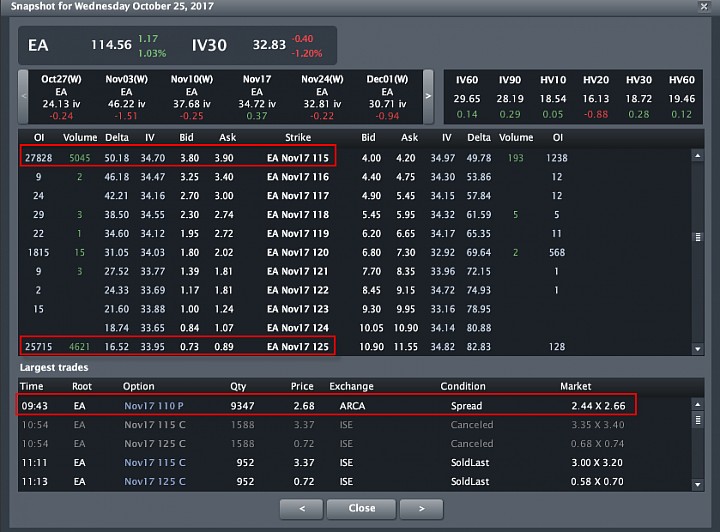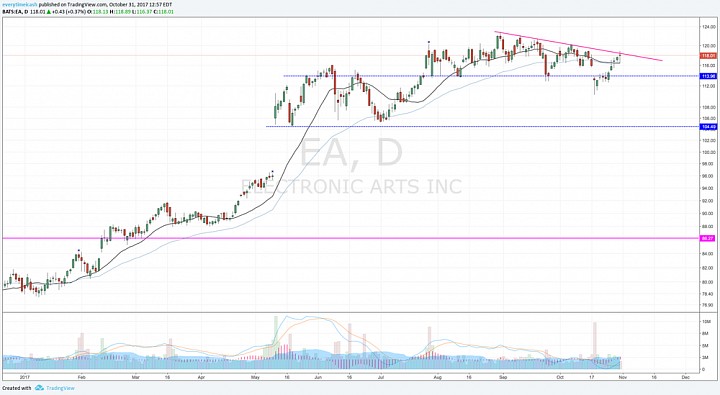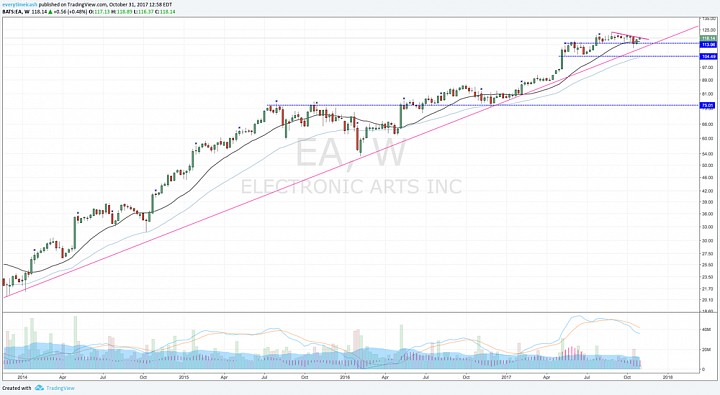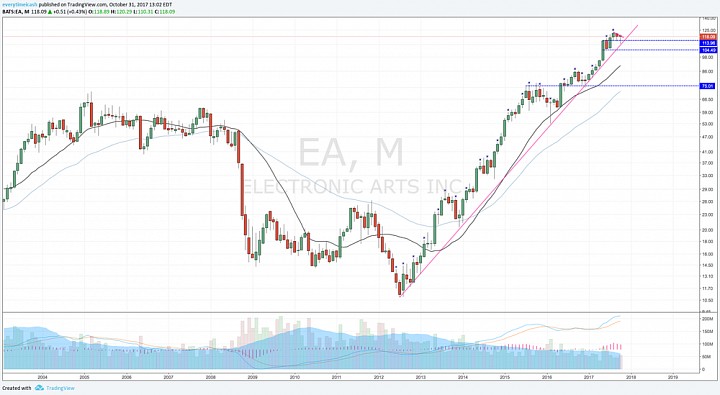 Technically, EA has been very choppy between 112-122 during the last quarter. Price action remains strong in the bigger picture, so the edge goes to buyers to lift prices into new high ground after earnings. Currently EA is wedged between MA's and a small downtrend. Look for a catch up trade higher if this thing bursts.
If not, then sellers will aim for the October low near 110, followed by the May bullish gap/July lows along the 105-level.
TRADE: NOV17 125C
More