GE is looking to rebound after falling from almost 33 to about 28.25 between July and November. The 4H chart below shows the bearish run contained in a falling channel. This decline broke below a rising trendline so we have to consider a longer-term period of consolidation. Price action in November so far is telling us that however long this consolidation period is, it has likely found a key support here at 28.25.
GE 4H Chart 11/9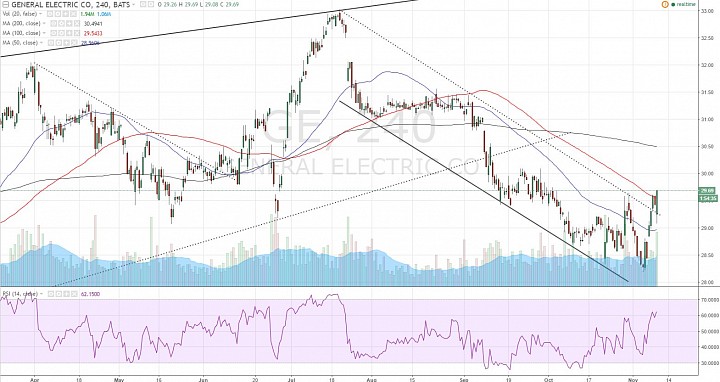 (click to enlarge)
V-shape reversal and bullish breakout
- The 4H chart shows price action that has been choppy. 
- In fact we can say it is an expanding consolidation, where volatility increases and the range makes higher highs and lower lows.
- The upswing is no different, giving us a v-shape reversal. 
- The difference is this upswing broke above a falling trendline. 
- The 29.00 handle will be important, because if there is another retreat, a hold above 29.00 would be a strong indication that the market has indeed reversed to the upside. 
- Furthermore, the RSI breaking above 60 is a sign that the prevailing bearish momentum has died. 
Perhaps the recent Baker Hughes Oil and Gas deal is good for GE? I don't know, but the chart is showing that the market would likes the deal for GE.
Here's a bullish opinion:
On October 31, General Electric announced that it has entered into an agreement to combine its oil and gas business with Baker Hughes.
In the announcement GE explained:
"The New Baker Hughes will be a leading equipment, technology and services provider in the oil and gas industry with $32 billion of combined revenue and operations in more than 120 countries. By drawing from GE technology expertise and Baker Hughes capabilities in oilfield services, the new company will provide best-in-class physical and digital technology solutions for customer productivity."
The merger represents a considerable cost for GE as, under the agreement, it will contribute $7.4 billion to fund the $17.50 per share special dividend to existing Baker Hughes shareholders to own 62.5% of the new company. As such, investors might worry that GE is paying too much for the deal. However, in my view, combining with Baker Hughes to create the new mega oilfield services company is a smart move by GE. After all, oil prices will recover sooner or later, and the new Baker Hughes company will have technical innovation and service execution of GE allowing it to prosper when oil prices start to climb.
The new Baker Hughes will be the world's largest Oil & Gas Equipment & Services company by sales with revenue of about $32 billion, higher than the present largest oilfield services company Schlumberger (NYSE:SLB) which had revenue of about $30 billion in the last four quarters. Moreover, the combined company is expected to realize synergies of $1.6 billion by 2020, and according to GE, the transaction is projected to add about $0.04 to its earnings per share in 2018, and $0.08 by 2020. (Full Article on amigobulls.com)