The
US ISM Manufacturing Index
came in at
56.2 for September
, its best reading since April 2011. The
forecast had been for a small decline from August's 55.7 to 55.3
. Instead, its another feather in the cap of the US manufacturing sector, which has continued to perform strongly despite worries over Fed Tapering issues.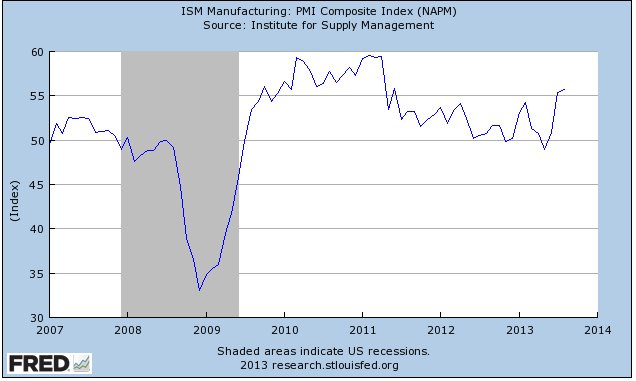 In any case, here's the key sub-gauges so we can dissect the data a little bit: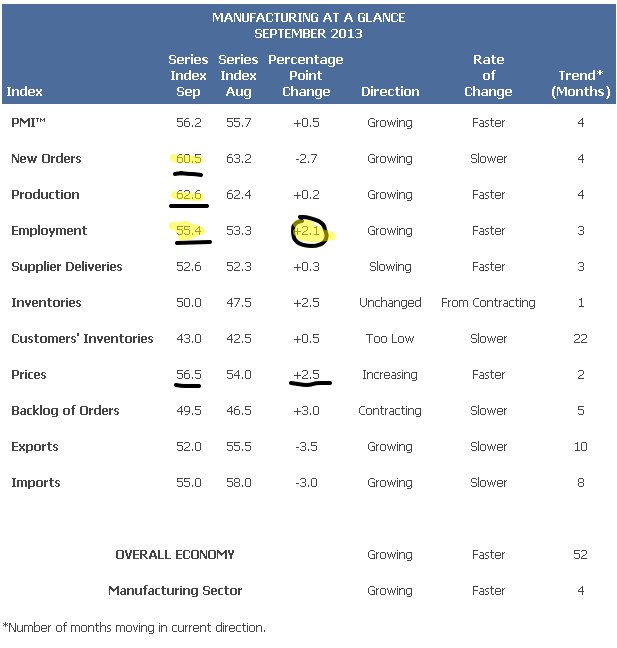 New orders continued to be strong at 60.4, production was above 60 as well at 62.6, and the important employment index was up by 2.1 points to 55.4. 
We can also see that prices heated up a bit, climbing to 56.5 from 54.0 in August.

Impact of the Release:
The fact that the US manufacturing sector continues to surprise to the upside was welcome news for investors, who pushed up the S&P500 index to a new
high for the week in the wake of the release.
It will be hard for risk-on sentiment to be able to overtake the bearish concern right now around the US government shutdown, but maybe all that has been priced in. In any case, the USD should benefit from positive macro data if it means that it will escalate the timetable for the Fed to start tapering.
Therefore today's report works at cross currents, helping both risk-on (better macro data), but also the USD (maybe earlier end to tapering). An interesting mix.
- Nick