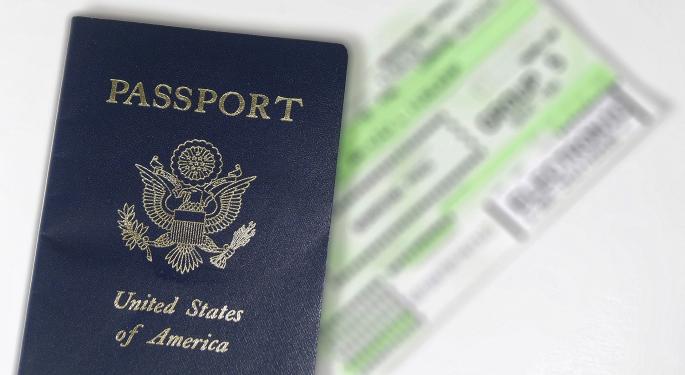 Consumers should take advantage of low airfare prices this summer before it is too late.
Brian Kelly, founder and CEO of The Points Guy, told Bloomberg TV air travel has risen this year, but fares have actually decreased. The reason being a lot of low cost carriers are taking advantage of lower oil prices and flying tourists to Europe, mostly from the United States, who can better take advantage of the weakened euro.
However, Bloomberg noted that U.S. carriers are now "desperate" to stop the decline in revenue. In order to do so, companies need to boost fare prices — perhaps through curbing its seat growth.
In fact, Delta Air Lines, Inc. DAL 2.49% already said it will do exactly that. The company will curb its seat growth to just 1 percent in the fourth quarter, especially in the U.K. where the country's decision to leave the European Union created an uncertain future for travel demand.
Related Link: American Airlines Book Value Rising Faster Than Its Debt, Says Buckingham
Bloomberg added that similar moves are likely to be announced from Delta's peers, as the entire sector is looking to reverse declines in the commonly referenced metric known as passenger revenue per available seat mile (PRASM).
"Investors want to hear a robust narrative on managing capacity to right the trajectory," Bloomberg quoted Credit Suisse Group AG analysts as stating in a research note on Thursday. "In nearly every conversation we have with investors, the question of capacity cuts comes up."
Did you like this article? Could it have been improved? Please email feedback@benzinga.com to let us know!
© 2016 Benzinga.com. Benzinga does not provide investment advice. All rights reserved.
Source