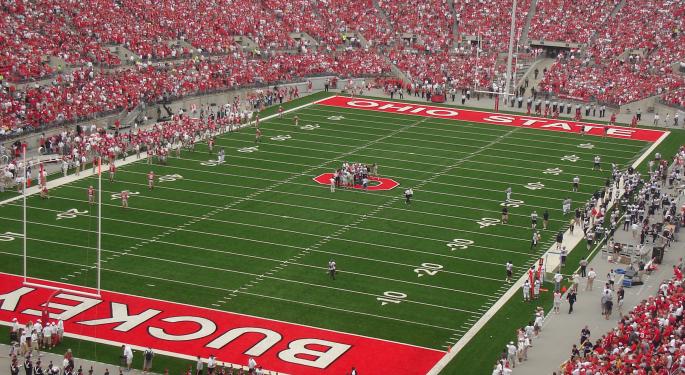 Ohio State University has reported an active shooter on campus. The university's Department of Public Safety tweeted the following warning to students at 9:56 a.m.:
"Buckeye Alert: Active Shooter on campus. Run Hide Fight. Watts Hall. 19th and College."
Details on the breaking story are unclear, but students reported hearing gunshots in the area followed by a number of police and ambulance sirens.
Unconfirmed reports suggest there were two shooters in the area and one remains at large. A local
https://twitter.com/search?q=@nbc4i&ref_src=twsrc%5Egoogle%7Ctwcamp%5Eserp%7Ctwgr%5Esearch
is reporting seven victims have reportedly been hospitalized.
Update, 2:27 p.m. ET: A man crashed his vehicle into pedestrians on campus, then slashed students with a butcher knife before being fatally shot by a university police officer, authorities said.
According to the Ohio State student paper, The Lantern, "There are nine people injured, with eight in stable condition and one in critical condition. All injuries are believed to be no-life threatening, and the rumors of a second suspect proved to be untrue."
Gun stocks Sturm Ruger & Company Inc RGR 0.66% and Smith & Wesson Holding Corp SWHC 0.5% initially spiked off of session lows as the news broke. Both stocks are still down more than 1.7 percent on the day.
Gun stocks have been hammered since the surprising election of Donald Trump on November 8. The market sees Trump's victory as a huge win for Second Amendment rights. Unfortunately for gun investors, a Republican sweep in Washington also placates fears about new gun control legislation, which could be bad news for gun sales.
Mass shooting events typically boost gun stock share prices.
Earlier this year, Benzinga looked at how the stocks reacted following mass shootings, as buyers rush to stockpile guns in fear of changes to gun laws as a result of the incidents. In the week following the five shootings analyzed in the report, Sturm delivered an average gain of 4 percent, while Smith & Wesson has averaged a staggering 8.9 percent gain.
Both stocks are down more than 17 percent since Election Day.
© 2016 Benzinga.com. Benzinga does not provide investment advice. All rights reserved.