Investors should view a panel recommendation win from FDA for Valeant Pharmaceuticals (VRX) as good news. A unanimous vote by the advisory committee to recommend approval for brodalumab contradicts the negative signals for mentions of psoriasis: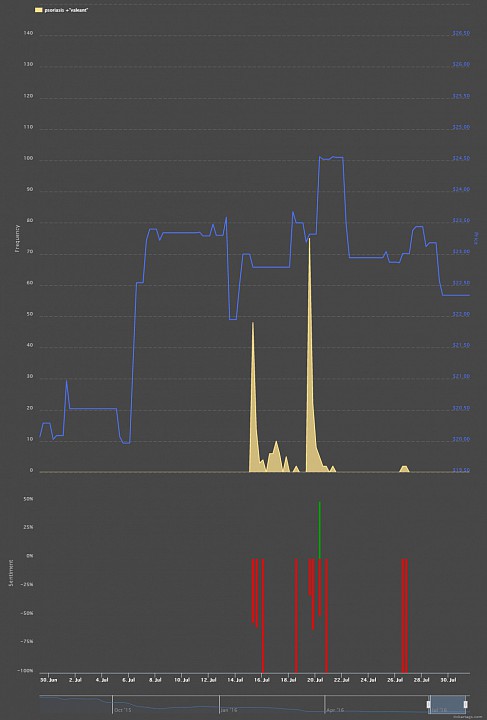 Source: https://www.tickertags.com
Mentions for psoriasis peaked on July 18, ahead of Valeant's stock spiking above $24. Despite the high interest, negative sentiment suggests this market will not change the market's opinion on Valeant for now. Instead, the quarterly report scheduled for August 9 will dictate Valeant's short-term stock movements. Listen in for CEO Joe Papa's comments about the FDA's Complete Response Letter regarding B&L's manufacturing plant for latanoprostene bunod ophthalmic solution. At issue is why this problem came about, worry over manufacturing deficiencies elsewhere and the opex costs for Valeant in fixing this problem.
 As the sustained frequency of mentions for glaucoma indicates, this drug will likely bring in significant revenue for B&L in the quarters ahead. The manufacturing issue only delays the unit from realizing sales.
Markets will continue overlooking the key approvals for Valeant's last month. The quarterly results report will determine where Valeant's stock moves next.