The National Institute of Health (NIH), in its infinite wisdom, has just awarded nearly $45,000 to a post-doctoral student at Duke University, and unabashed "Resist 45" activist, for the specific purpose of studying 'transgender health.'  According to the NIH website, the project got underway on May 1st and is expected to continue through August 2018...at which point we're almost certain more taxpayer money will be thrown at worthy follow-up projects.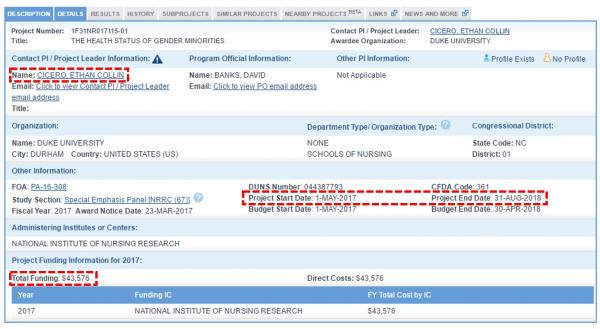 But, perhaps even more important that the topic of the grant is the person to whom the grant has been awarded.  Ethan Cicero is a post-doctoral student at Duke University and an avid "Resist 45" activist.   He has written numerous previous research reports in the past on extremely critical healthcare issues like whether or not hospitals should ask individuals for their preferred pronouns and "be sensitive to shared spaces" by keeping the "gender to which they identify in mind" when placing transgender individuals in rooms.
Cicero has also attacked doctors for "incorrectly us[ing] sex and gender interchangeably," since gender is "more abstract and refers to the complex relationships among gender biology (sex), gender identity (one's sense of being female, male, both, or neither), and gender expression (outward presentation behaviors, and roles)."
Meanwhile, in an article published in the January 2016 issue of the Journal of Emergency Nursing entitled "'I Was a Spectacle…A Freak Show at the Circus': A Transgender Person's ED Experience and Implications for Nursing Practice," Cicero went so far as to blame America's emergency rooms for the high attempted suicide rates of transgender people.
"Few worry about clinician competence or are concerned that they may be denied care; however, transgender personal contemplating and ED visit sometimes face these issues.  The scarcity of of clinical providers adequately prepared to care for transgender persons is a major barrier to seeking care.  In addition, some transgender people encounter denial of services, discrimination, harassment, and even violence in healthcare settings.  The accumulation of barriers cause some transgender people to avoid seeking even routine preventative care.

 

The implication of these barriers is profound.  The lack of high-quality, equitable healthcare is directly  associated with a high lifetime suicide rate in the transgender community."
New flash, Ethan, everyone hates going to the emergency room...it has nothing to do with your 'gender expression.'
As the The Washington Free Beacon points out, Cicero's controversial public statements go well beyond his emergency room research papers and were spread all over his FaceBook page before it was recently changed to private.  Perhaps he didn't think that the NIH would appreciate his post alleging the Pence's pro-life views only applied to "white, straight, and American individuals/babies."
Ethan Cicero, a post-doctoral student at Duke University, received the grant. Cicero describes his employer as "The Resistance" on his now-private Facebook account.

 

Cicero's cover photo on the social media platform reads "Resist 45," in reference to President Donald Trump. He changed his profile picture to "Not My President" on Inauguration Day.

 

"Hey Women's Marchers, vagina does not equal woman," Cicero wrote on Facebook, referencing the liberal march the day after Inauguration Day that received criticism from transgender activists for not being inclusive to biological men who identify as women.

 

"Stop erasing trans/gender nonconforming people," Cicero said, linking to an article in the Washington Post with the headline, "It's time to drop the vagina as a protest symbol."

 

Cicero's Facebook account was changed to private shortly after the request for comment was sent.
We simply can't wait to see what amazing things Ethan can write about with his new $45,000 budget.