I posted the daily view of the
AUD/USD, in which I talked about the
potential for a scenario with a decent upside move
. The pair has recently moved above some important technical levels and so good to give this pair some extra attention.
The daily view is great for context and analysis, but we need to drill down into the shorter time-frames to actually trade.
The
1HR view
in the
AUD/USD shows just how strong the recent bullish momentum has been.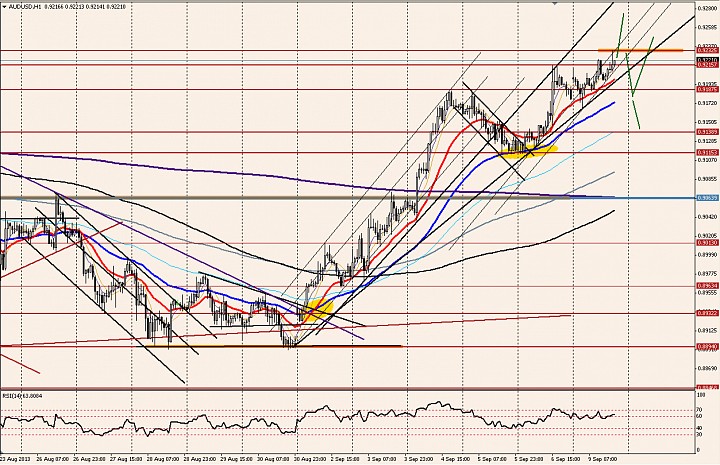 What I use to determine the "market structure" - whether the pair is bullish or bearish - are the 21 and 55 EMA's (in red and blue respectively) and how they are interacting with each other (which is on top?, is there separation between them? are they acting as support and resistance for price? etc).

On Sept 2nd, there was a bullish crossover as the 21-EMA crossed above the 55-EMA. That is a sign that we may potentially be entering a new trend. 

After the crossover, the 2 medium term EMA's have been trending, and the distance between them has widened out (a sign of a good trending market).
After a 280 pip rally from bottom to top last week, the pair fell back and used the 55-EMA as a good support level (@0.9117). Currently price has been using the 21-ema as support.
Possible Scenarios:

The first scenario is a break to the top-side, which means that the pair does not want to retrace, and is ready to push through its current resistance level, and ready to move onto its next key resistance level (0.9310). If this scenario starts playing out, we should reference the daily analysis targets from earlier post.
The 2nd scenario is that we turn back at the recent local high at 0.9232, and fall back to retest the 21-EMA or 55-EMA. If this scenario plays out, it could be a chance to see if there is a better price to get into a long position from.
The 3rd scenario is that the pair tops off here, and we have the start of a stronger corrective action down to 0.9140.

I thought the 2nd scenario was most likely when I was looking at the charts over the weekend, but the 1st scenario (continuation of bullish move) may be winner. There is a general weak USD sentiment in markets to start the week.

In any case, wanted to give you both the long-term and short-term looks for the AUD/USD pair. Hope these charts help! Have questions, thoughts or comments, leave them below.

- Nick