Summary
COP shares have appreciated remarkably in the past three weeks on the back of a rise in crude oil prices, a trend could continue due to favorable oil market developments.
There is a possibility that the ban on oil exports from the U.S. will be raised soon as the bill goes for vote later this month, reducing oversupply.
Iraq's oil production could decline as the country is facing the crunch due to low oil prices that are hindering capital investments in oil, creating a tailwind for oil prices.
COP has reduced its drilling and completion costs by 30% in two years, while it is shifting production to assets that can generate 25% returns in a weak oil environment.
COP has the lowest cost of supply among its peers in the Eagle Ford, while the net present value of its acreage is also the highest, indicating strong asset efficiency.
The recent recovery in crude oil prices has led to a resurgence in ConocoPhillips' (NYSE:COP) performance on the stock market in the past three weeks. In fact, Conoco shares have jumped almost 19% since the recovery in crude oil prices began on August 26 as shown in the chart below: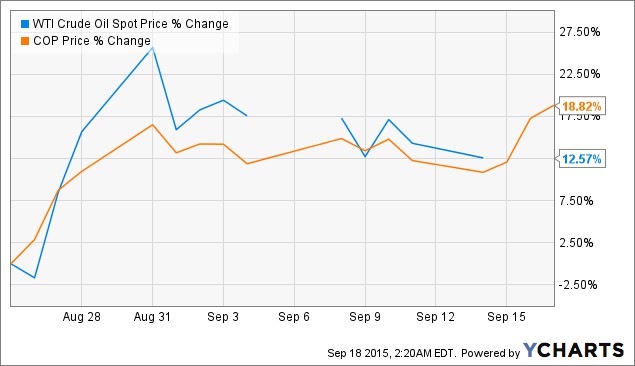 Why the recovery should continue
This recent recovery in crude oil prices can be attributed to increasing demand, higher crude drawdowns in the U.S., and the possibility that certain OPEC members might be cutting production. For instance, for the week ending September 11, crude oil inventory in the U.S. declined 2.1 million barrels. This was way better than expectations as analysts were expecting inventory growth of 1.2 million barrels last week.
The decrease in crude inventory in the U.S. can be attributed to a declining rig count in the country, which indicates that users are taking steps to reduce the oversupply in the industry. Additionally, there is a possibility that the export ban imposed on U.S. crude 40 years ago might be lifted going forward as the House is set to vote on this bill later in September. Now, it is likely that the bill will be passed as it is gaining favor among both Republicans and Democrats. As reported by NASDAQ:
"With momentum growing across party lines, we are confident that this measure will pass in the House with bipartisan support," said George Baker, executive director of a coalition of more than a dozen oil-producing companies. "We remain optimistic that this measure can make its way through the Senate and to the president's desk this year."
Once the bill to remove the export ban from the U.S. is put into effect, the oversupply in the U.S. oil industry will come down, and this will prove beneficial for prices. Moreover, U.S. oil producers such as Conoco will be able to tap export markets such as China, where crude oil production is way below consumption, as shown below: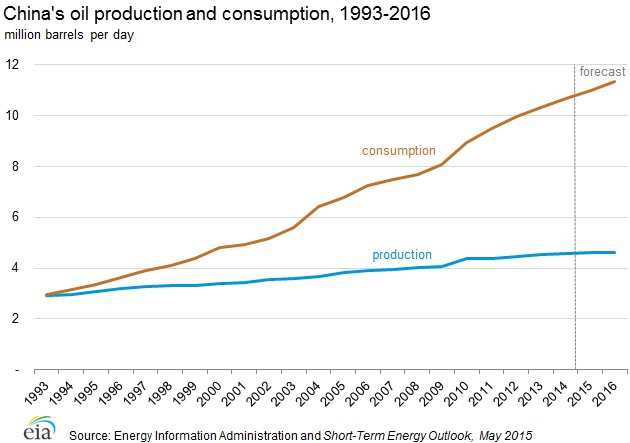 On the other hand, there is a possibility that OPEC member Iraq will be forced to cut production due to the low oil price environment. The oil ministry in Iraq will see a drop in funding due to a decrease in oil-related revenue, which will negatively impact the country's production going forward. This is an indication of cracks emerging in OPEC's stance on crude oil production, and could play a role in reducing the oversupply in the broader oil market.
Thus, in my opinion, the recent recovery in oil prices is expected to continue going forward, and this will act as a tailwind for Conoco. Now, the good thing is that Conoco is well-placed to benefit from an uptick in oil pricing since the company has been able to reduce its cost base aggressively, indicating that it will be able to command stronger margins going forward.
Well-placed to benefit from better pricing
ConocoPhillips has undertaken various initiatives to combat the soft commodity price environment. It is lowering headcount and optimizing business practices in order to better align its G&A to activity levels required in the present market conditions. But, apart from these efforts, Conoco has also focused on sustainable cost reduction moves.
For instance, by improving its drilling and completion efficiencies and optimizing recovery, Conoco has been able to reduce its drilling and completion costs by 30% in the past two years. The reduction in the company's drilling and completion costs is the result of an impressive drop in the company's spud to production cycle by 40% and a 30% reduction in drilling days.
The following chart shows that Conoco is now able to generate more oil at a lower cost. This is shown in the chart below: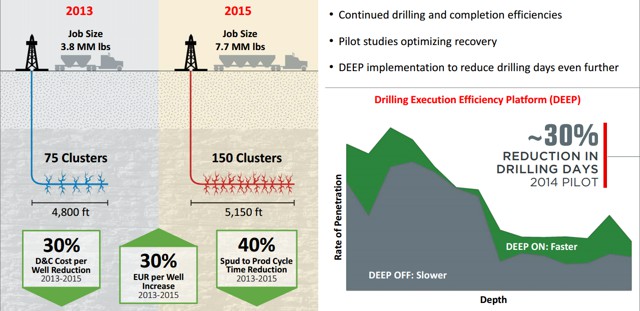 Source: Investor relations
These efficiencies, coupled with other measures such as final negotiations with clients, a reduction in rig count, and lower capital expenditure, have enabled Conoco to identify overall savings of $870 million. Additionally, Conoco is recognizing the benefits of rapid cost deflation in the current oil environment, and has identified approximately $700 million in cost deflation benefits so far.
Low cost assets will lead to better returns
ConocoPhillips' acreage in regions such as the Eagle Ford, the Permian Basin, and the Bakken has allowed it to reduce its cost of supply dramatically of late. In fact, Conoco has the lowest cost of supply among its peers in the Eagle Ford, apart from having the highest net present value per acre. This is shown in the following chart: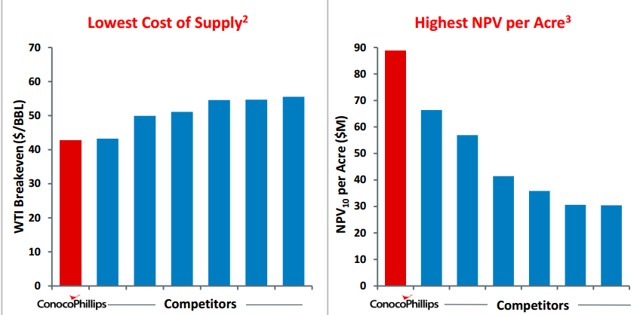 Source: ConocoPhillips
This low cost of supply will help the company deliver returns even at oil prices below $50 per barrel as shown below. Additionally, the good part is that Conoco is now focused on shifting its capital investments from its lower cost assets to higher cost assets: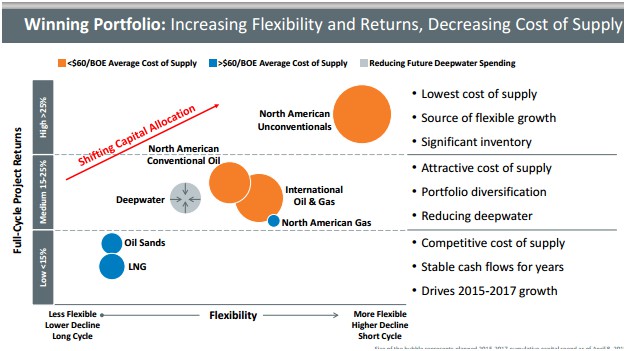 Source: ConocoPhillips
Conclusion
The impressive thing to note about Conoco is that the company has taken smart steps to counter the weakness in the end market by shifting its capital allocation to assets with higher returns. Moreover, the company has aggressively reduced its cost base by reducing drilling and completion costs, which will help it emerge stronger in case of an oil recovery. Thus, according to me, Conoco's recent run is not just a flash in the pan as the company can continue getting better due to the reasons discussed above.
More