The USD/JPY was bearish at the end of August falling sharply and spiking down to essentially the low on the year around 116. We can see the dip in the 4H chart. Then for the past 2-3 weeks, price has been coiling. 

USD/JPY 4H Chart 9/16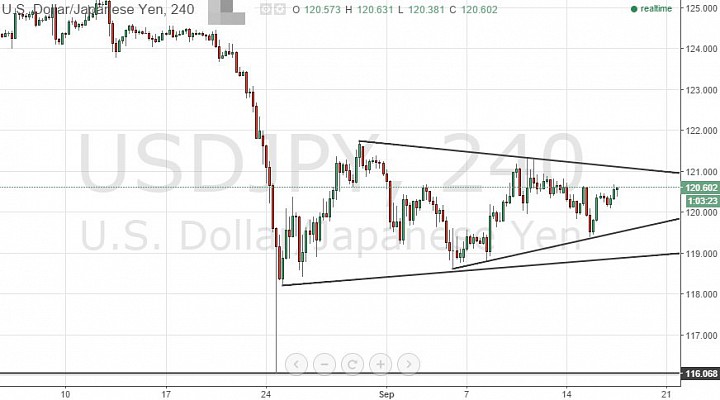 (click to enlarge)
The fact that USD/JPY fell almost to 116 suggests that the market is doubting the Fed's resolve in raising rates September. Its almost like a price-out of this anticipated event. However, the market still knows a rate hike is on the table and thus stalled eventually around 120. Indeed this psychological level is like the central pivot of a triangle that was about 118.20-121.80 at its widest swing. 

I like it when the market clearly stalls ahead of key event risk. Basically, I want to see if price closes above or under 120.00 this week. This will give the market a whole session to react and react to the reaction etc. 
If when the dust settles, USD/JPY is above 120.00, I would anticipate a bullish outlook for the rest of the month and into October. Otherwise, if price holds under 120.00, I would look for the market to fall towards 116. A break below 116 will be a critical price action because that would suggest that the 2015 price action in USD/JPY was a price top.