Well that escalated quickly. It appears "bad-news-is-bad-news" once again as ADP was the only saving grace and was just not bad enough to be good (or good enough to comfort escape-velocity-believers). For the 3rd day in a row, stocks saw an opening dump, European close pump, afternoon slump - this time led lower by Trannies (dragged lower by Ebola-scared airlines) down 2.5% (worst in 8 months). The Dow is rapidly approaching unch for the year. Treasury yields collapsed today (2Y -4bps, 30Y -9bps) with 7Y -13bps on the week. Gold rose modestly as silver and WTI crude plunged once again post-EU close. The USDdollar flatlined amid the carnage in bonds, stocks, and commodities. Lots of potential catalysts for today's weakness but desk chatter about Goldman questioning US growth was notable (as they closed out their growth basket). The Russell 2000 'closed' in 10% correction.
3rd day in a row of opening dump, European close pump, afternoon slump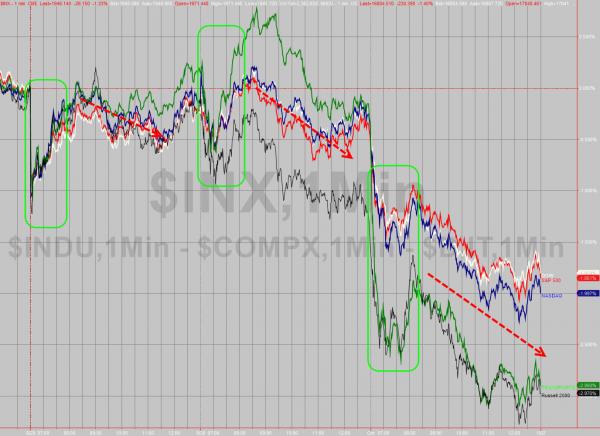 Once again post EU Close - Silver, Crude and stocks tumbled in sync...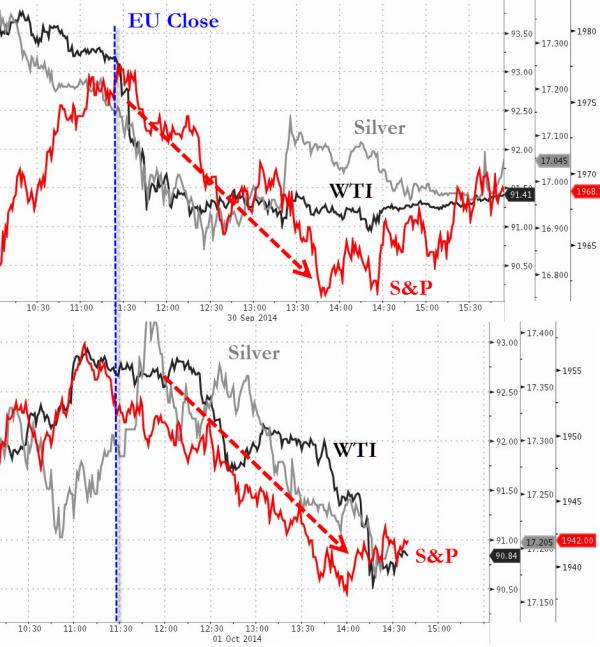 This was Trannies biggest single-day drop in 8 months...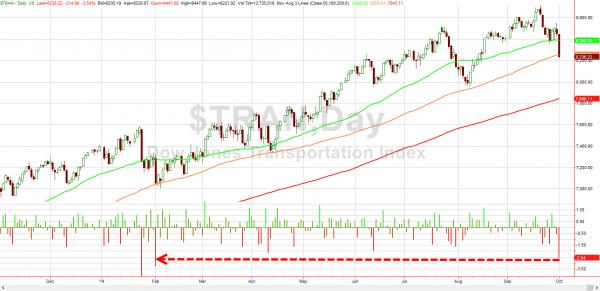 "Sell In May" is starting to look like a good strategy...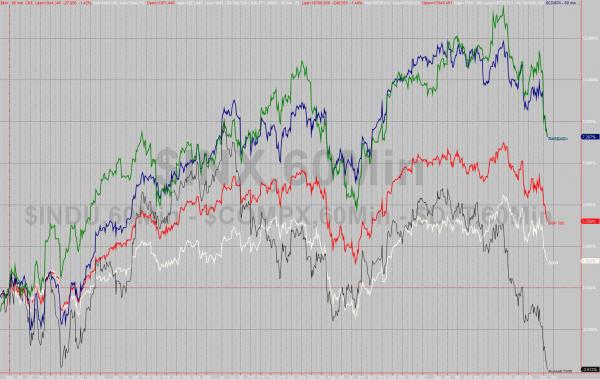 VIX slamdown into the close kept stocks off the lows (thanksa to HFTs breaking the CFE)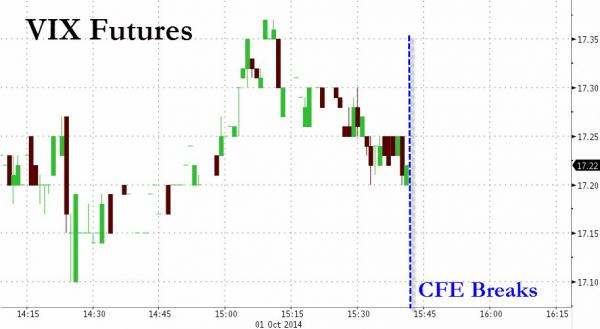 Leaving the index to blow lower all on its own...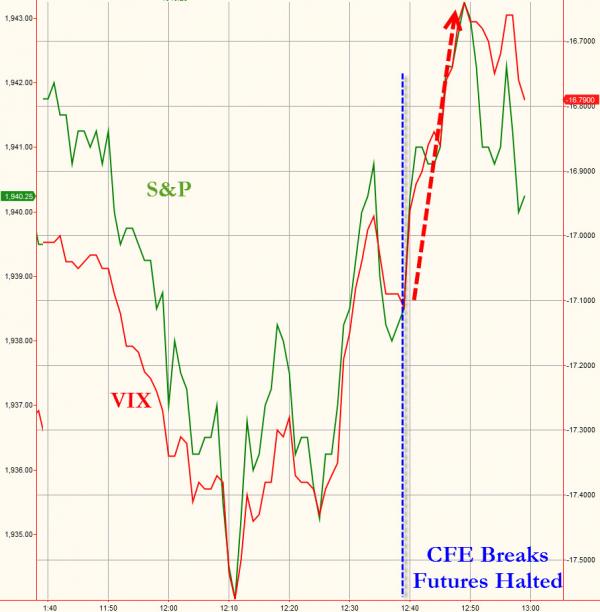 Treasuries, JPY, and Stocks were a one way street today...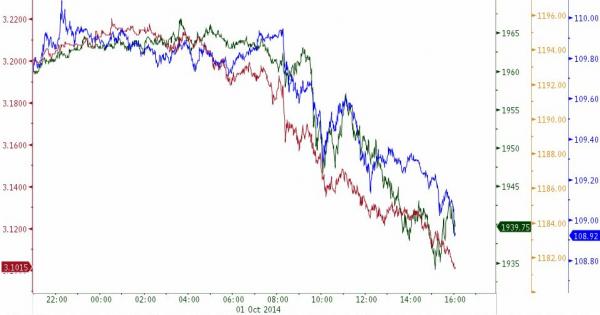 as was credit... with a VIX driven bouince into the close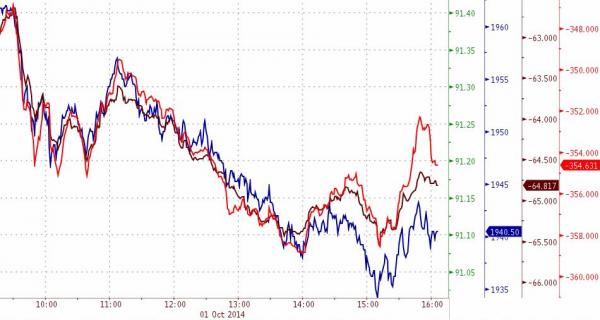 As Treasury Yields collapsed  to 10-13bps lower on the week...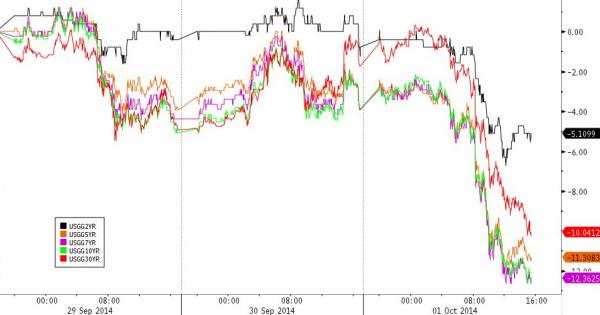 NOTE: Credit protection rallied modestly into the close and Treasury yields accelerated lower - smells a lot like a corporate-bond spread focused liquidation (lift protection as unwind underlyings - which means sell corp bonds, buy TSYs)
The Dollar went nowhere today - JPY strengthened modestly - amid all the craziness...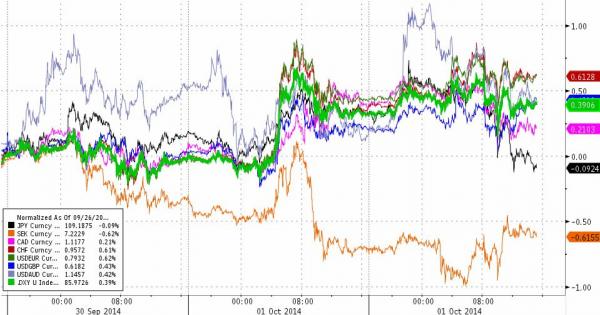 Gold rose modestly as silver and crude crashed once again...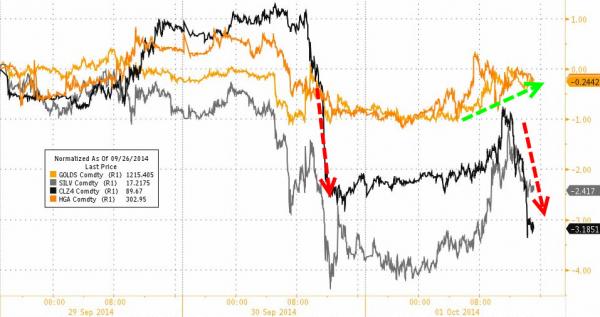 And a gentle reminder to those that were absent today... (FYI - this is a 2014 updated version of the original) - so Buy The F##king Dip... If You Don't You're a F##king Idiot!
Charts: Bloomberg
Bonus Chart: The Gold-Silver ratio is back at 71 - the same level when Lehman failed...