ServiceNow provides cloud-based solutions that define, structure, manage, and automate services to enterprise operations all over the world. The company's stock grew up more than 9% over the last few weeks and 2% today.
<!== INSTRUMENT %% %60% ==!>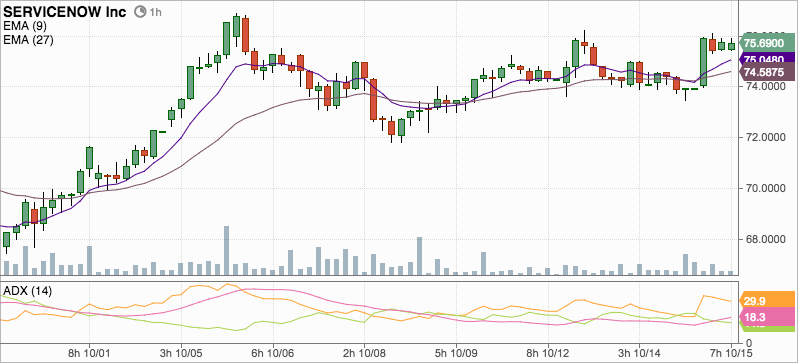 Does the company's stock keep an upside potential? That's the question. Let's check the operating and financial metrics. The company has a subscription revenue from its clients, moreover, ServiceNow received the revenue flow from professional services. Most of software companies provide the professional services for lead generation and getting new customers.
Number of customers was growing over the last several years: from 1,512 clients in 2012 to 2,725 in 2014. However, the company's number of clients as of June 2015 was around 2,628 (less than as of December, but significantly more than as of March). So the number of customers has a multidirectional trend, but I think by the end of this year the number of customer will exceed the previous year level. 
As I have already mentioned, the number of clients dropped down in the beginning of this year. The main reason for that was an increase in tariffs and therefore increase in ARPA. The company's ARPA as of June 2015 grew up more than 18% in comparison with June 2014. That's a little bit less than the previous year growth rate, however, the business model became profitable. 
Operating expenses and cost of revenue
The company increased the sales and marketing (from 52.76% of revenue as of June 2014 to 53.77% as of June 2015) and product development (from 26.61% of subscription revenue as of June 2014 to 27.11% as of June 2015) expenses in 2015 in comparison with 2014, however, it was able to reduce the cost of revenue (from 38.19% to 36.28% as of revenue) and G&A (from 15.22% to 13.03% as of revenue) expenses. To sum up, the company will stay at the same level or can even decrease its costs in 2015. 
That's the most important thing about the business model of ServiceNow, because the company "paid" in stock based compensation more than $124K during the first half of the year. If we exclude the stock-based compensation we will get the profitable business model. 
Summary
I think that ServiceNow business model will be effective and profitable over the next several years. However, there are still some questions: can the company reduce the stock-based compensation in order to become the profitable company? What will be the impact of such reduction? If we calculate the company's financial results with stock-based compensation - the situation with marginality is awful, the company will increase its negative EBITDA and EBIT in 2015. It's too risky at the moment to invest into ServiceNow, because we can see some kind of business transformation in close future.