Teldoc Inc. TDOC third-quarter results, scheduled for Nov 1, are expected to witness an increase in patient visits, one of the major driver of the company's revenues.
Telehealth services provided by the company are fast gaining acceptance due to their flexibility, cost effectiveness and superior quality, which are driving demand. This must have consequently propelled patient visits in the to-be-reported quarter. Also, the acquisition of HealthiestYou closed in 2016 is expected to result in higher visits and call volumes. The Zacks Consensus Estimate for the same is set at 293,721, up 45% year over year. The company's guidance for the same is between 275,000 and 300,000.
A major component of the company's revenues, subscription access fees which account for 80% to 85% of the company's revenues, is driven primarily by the number of clients, the number of members in a client's population, the number oof services contracted for by a client and the contractually negotiated prices of the company's service.
Since the company has been continuously adding a number of clients by virtue of its superior service, a wide network of doctors and round-the-clock medical assistance, this revenue component is expected to see a surge in the third quarter. The Zacks Consensus Estimate for the same is $51 million, which translates into year-over-year growth of 83%.
The company is in its growth phase and incurring heavy expenditure in the form of substantial investments made to acquire new clients, build its proprietary network of healthcare providers and develop its technology platform.
Thus, the bottom line will see a drain from huge expenses on higher advertising, sales, technology and development, general and administrative functions, and depreciation and amortization. We, however, expect expenditures to decline as the company has started to realize leverage from the scale of its operations.
Teladoc, Inc. Price and EPS Surprise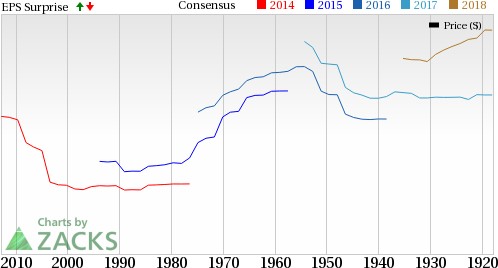 Guidance for Q3
The company expects net loss per share, based on 56.5 million weighted average shares outstanding, between a loss of 56 cents and 58 cents.
Revenues are expected in the range of $67- million.
Adjusted EBITDA is expected in the range of a loss of $2-$3 million.
Membership is expected between 22.0 million and 22.5 million.
Here is what our quantitative model predicts:
Our proven model shows that Teladoc has the right combination of the two key ingredients to beat earnings estimates.
Zacks ESP: Earnings ESP, which represents the difference between the Most Accurate estimate and the Zacks Consensus Estimate, is +15.65%.
The positive ESP is a meaningful indicator of a likely positive earnings surprise. You can uncover the best stocks to buy or sell before they're reported with ourhttps://www.zacks.com/premium/esp-buy?adid=zp_article_espfil..."> Earnings ESP Filter.
Zacks Rank: Teladoc carries a Zacks Rank #3 (Hold). Note that stocks with a Zacks Rank of #1, 2 or 3 have a significantly higher chance of beating on earnings.
Conversely, we caution against Sell-rated stocks (Zacks Rank #4 or 5) going into the earnings announcement, especially when the company is seeing negative estimate revisions.
Other Stocks to Consider
Aetna Inc. AET is set to report results on Oct 31. It has an Earnings ESP of +1.68% and a Zacks Rank #1 (Strong Buy). You can see the complete list of today's Zacks #1 Rank stocks here.
Cigna Corp. CI is set to report results on Nov 2. It has an Earnings ESP of +0.43% and a Zacks Rank #2 (Buy).
Humana, Inc. HUM has an Earnings ESP of +1.10% and a Zacks Rank of 3. The company is set to report results on Nov 8.
Zacks' Best Private Investment Ideas

While we are happy to share many articles like this on the website, our best recommendations and most in-depth research are not available to the public.

Starting today, for the next month, you can follow all Zacks' private buys and sells in real time. Our experts cover all kinds of trades… from value to momentum . . . from stocks under $10 to ETF and option moves . . . from stocks that corporate insiders are buying up to companies that are about to report positive earnings surprises. You can even look inside exclusive portfolios that are normally closed to new investors.

Click here for Zacks' private trades >>
Want the latest recommendations from Zacks Investment Research? Today, you can download 7 Best Stocks for the Next 30 Days.
Click to get this free report
Cigna Corporation (CI): Free Stock Analysis Report
Aetna Inc. (AET): Free Stock Analysis Report
Humana Inc. (HUM): Free Stock Analysis Report
Teladoc, Inc. (TDOC): Free Stock Analysis Report
To read this article on Zacks.com click here.
Zacks Investment Research