Day trading stock picks likely to move big (up or down) during the week of July 18: $CBI $HTZ $WLL $FTR $OAS $AMD and few that are usually good day trading candidates: $SPY $BAC $WFT $MOMO $CLF $AKS

I screen for day trading stocks with a recent history of volatility. That means these stocks are highly likely to move big (up or down–trade the intraday trends) each day for the next week.
A new list is published each Tuesday, before the Open, on VantagePointTrading.com.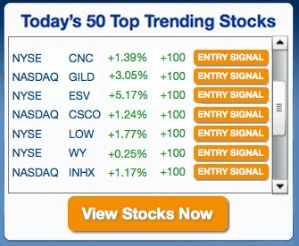 What can you expect from the day trading stock picks:
greater than 5% moves intraday, on average
more than 4,000,000 average volume (typically more)
all stocks; no leveraged ETFs
Priced between $5 and $150
These are day trading stock picks worth watching. I'm not recommending a specific trade or direction. For some guidance on day trading the stock picks discussed below, see How to Day Trade Stocks in 2...
More