The market is not really happy with Sunnyvale, CA-based-based Accuray Inc.'s ARAY preliminary results for the fourth quarter and fiscal 2017. Following the announcement, the company's stock lost over 2% in the last trading session to close at $4.70.
Meanwhile, a glimpse at the third quarter of fiscal 2017 performance shows a loss of 6 cents per share, which compared unfavorably with the Zacks Consensus Estimate of earnings of a penny. Total revenue in the quarter decreased approximately 7.6% year over year to $97 million.
Preliminary Results
Revenues: Revenues for the fourth quarter are forecasted in the band of 1.5–$112.0 million. For the fiscal, revenues are projected in the range of $382.8–$383.3 million. Per management, Europe and Asia Pacific are key growth areas for the company.
Gross Product Orders: Accuray expects approximately $86 million of gross product orders. For the fiscal, gross product orders are anticipated to be approximately $298 million. Notably, in the last quarter, gross product orders increased almost 48.6% on a year-over-year basis. Solid growth in gross orders is buoyed by the full commercial launch of the Radixact system and continued strong demand for the company's flagship CyberKnife system.
Balance Sheet: Accuray forecasts cash, cash equivalents, investments and restricted cash of around $108 million (as of Jun 30, 2017). This marks an increase of $11.4 million from Mar 31, 2017. Per management, during the fourth quarter, Accuray reduced its total debt by $10 million. The company expects age-outs and cancellations for the fourth quarter to be approximately $19 million and $4 million, respectively.
Our Estimates & Stock Performance
The Zacks Consensus Estimate for the current quarter stands at a breakeven. Revenues are expected to be around 1.45 million for the fourth quarter. We note that Accuray failed to meet earnings and revenue estimates in the past four quarters.
For the full year, the Zacks Consensus Estimate for the bottom line stands at a loss of 28 cents. Coming to revenue estimates, we expect Accuray's revenues of around $382.76 million for the fiscal.
However, the company promises a long-term expected earnings growth rate of 15% and carries a Zacks Rank #3 (Hold).
Over the last six months, the stock gave a negative return of 12.2%, comparing unfavorably with the Zacks classified Medical Instruments sub-industry's gain of 016.6%. The current level is also significantly lower than the S&P 500's return of 8.5% over the same time frame.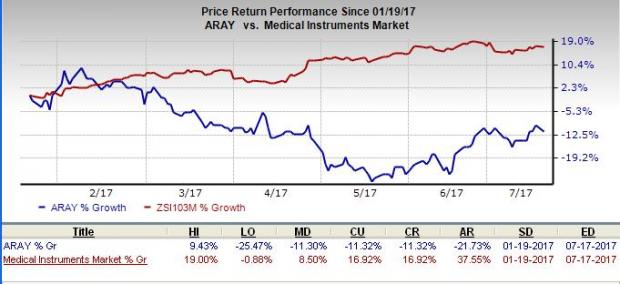 Key Picks
A few better-ranked stocks in the broader medical sector are Edwards Lifesciences Corporation EW, CryoLife, Inc. CRY and EDAP TMS SA EDAP. Notably, EDAP TMS sports a Zacks Rank #1 (Strong Buy), while Edwards Lifesciences and CryoLife have a Zacks Rank #2 (Buy). You can see the complete list of today's Zacks #1 Rank stocks here.
EDAP TMS represents an impressive return of 22.8% for the last three months. The company delivered a solid earnings surprise of 533.3% in the last reported quarter.
Edwards Lifesciences has a long-term expected earnings growth rate of 15.2%. Notably, the stock represents an impressive one-year return of 10.4%.
CryoLife yielded a strong return of 4.5% over the last one month. The stock delivered a positive earnings surprise of 80% in the last reported quarter.
5 Trades Could Profit ""Big-League"" from Trump Policies
If the stocks above spark your interest, wait until you look into companies primed to make substantial gains from Washington's changing course.
Today Zacks reveals 5 tickers that could benefit from new trends like streamlined drug approvals, tariffs, lower taxes, higher interest rates, and spending surges in defense and infrastructure. See these buy recommendations now >>
Want the latest recommendations from Zacks Investment Research? Today, you can download 7 Best Stocks for the Next 30 Days.
Click to get this free report
Accuray Incorporated (ARAY): Free Stock Analysis Report
EDAP TMS S.A. (EDAP): Free Stock Analysis Report
Edwards Lifesciences Corporation (EW): Free Stock Analysis Report
CryoLife, Inc. (CRY): Free Stock Analysis Report
To read this article on Zacks.com click here.
Zacks Investment Research