MuleSoft (MULE) just released its second-quarter financial results, posting a loss of 15 cents per share and revenues of $69 million. Currently, MULE is a Zacks Rank #3 (Hold) and is down 0.15% to $26.35 per share in trading shortly after its earnings report was released.
MuleSoft:
Beat earnings estimates. The company posted earnings of -$0.15 per share, beating the Zacks Consensus Estimate of -$0.16.
Beat revenue estimates. The company saw revenue figures of $69.2 million, beating our consensus estimate $64 million.
GAAP gross margin was 73.5%, an increase of 40 basis points from the prior-year quarter.
The company now expects third-quarter revenue in the range of $71 million to $72 million. Non-GAAP net loss per share is expected to come in at 12 cents.
"We delivered strong growth performance in the second quarter and continue to be excited about our market opportunity," said CEO Greg Schott. "The convergence of major technology forces, such as mobile, cloud, big data, and the Internet of Things, is driving the shift to composability and creating disruption across almost every industry."
Here's a graph that looks at MULE's price performance since its IPO:
Mulesoft Inc. Price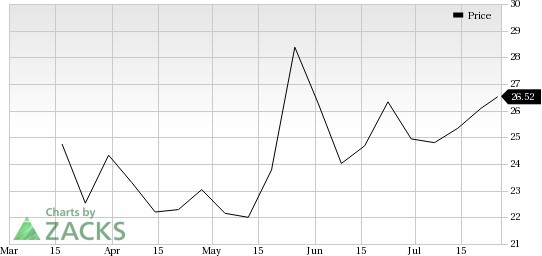 MuleSoft, Inc. owns and operates Anypoint Platform, an integration solution for connecting applications, data sources, and devices, both on-premises and in the cloud. Its hybrid integration platform includes iPaaS, ESB and a unified solution for API management, design and publishing.
Want more stock market analysis from this author? Make sure to follow @
https://twitter.com/Ryan_McQueeney
on Twitter!
More Stock News: Tech Opportunity Worth $386 Billion in 2017
From driverless cars to artificial intelligence, we've seen an unsurpassed growth of high-tech products in recent months. Yesterday's science-fiction is becoming today's reality. Despite all the innovation, there is a single component no tech company can survive without. Demand for this critical device will reach $387 billion this year alone, and it's likely to grow even faster in the future.
Zacks has released a brand-new Special Report to help you take advantage of this exciting investment opportunity. Most importantly, it reveals 4 stocks with massive profit potential. See these stocks now>>
Want the latest recommendations from Zacks Investment Research? Today, you can download 7 Best Stocks for the Next 30 Days.
Click to get this free report
Mulesoft Inc. (MULE): Free Stock Analysis Report
To read this article on Zacks.com click here.
Zacks Investment Research