Fundamentals Event Risks:
The EUR/USD has been bearish since the FOMC statement gave the USD a boost across the board 2 weeks ago. EUR was pressured after ECB members gave some dovish statement, basically saying the bank is ready to cut rates. Deflationary risk has been a major factor contributing this dovish lean, so this week's CPI data will be key.
EU CPI:
1) The EU CPI data for March comes out on Monday. Economists forecast the annual inflation in the UK to be be 0.6% in March after a 0.7% reading in February. This would be the lowest annual inflation rate since November 2009, when it was 0.6%.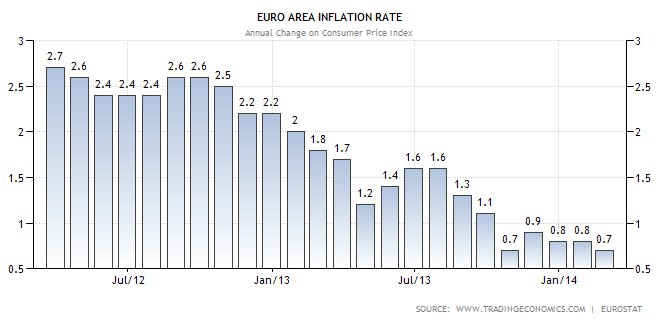 (Source:
tradingeconomics.com
)
As you can see from the inflation trend in the past couple of years, the ECB does have a strong reason for its concern of deflationary risk.
ECB Meeting, Press Conference:
2) If the inflation rate does decline, the ECB will have to address it during its policy announcement on Thursday, which is followed by an ECB press conference.
US NFP:
The main US fundamental event risk on tap will be Friday's Non-Farm Payroll report, forecast to be 196K, after a better than expected 175K in February.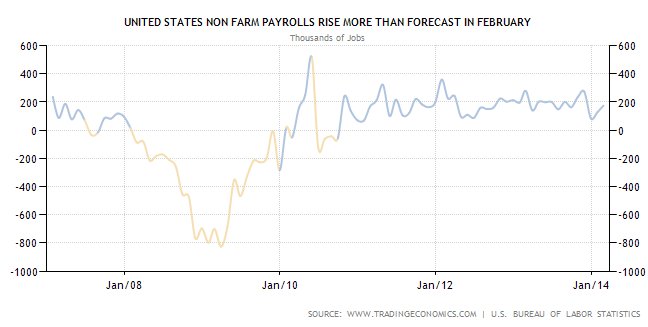 (Source:
tradingeconomics.com
)
A strong reading ie. 230K+ would be a USD-positive reading. However, a strong reading that is closer to 200K might be generally positive for risk sentiment, which is USD-negative. Which will dominate? Poor data should be USD-negative, but will also limit a rally in EUR/USD due to risk-aversion.
Stochastic, downside risk:
The daily Stochastic is below 20. In a bullish market, this is an oversold signal, suggesting the market should find support soon, if not rebound.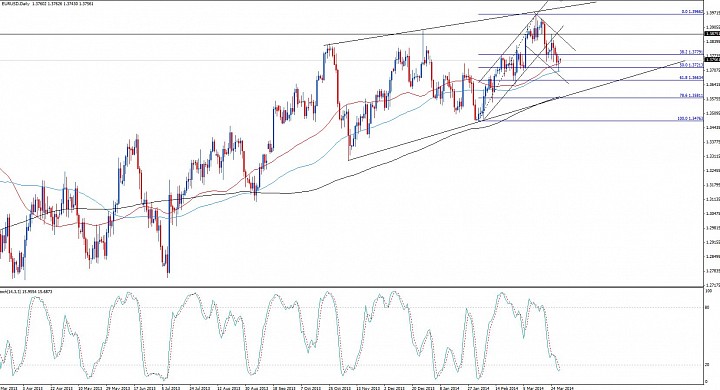 (EUR/USD daily chart 3/31 Asian session)
EUR/USD is technically still bullish and the 2-week retracement could set up the market to buy on a fade.
There is downside toward 61.8% retraement at 1.3663, or even lower, to a rising support seen in the daily chart that comes up from the Nov. 2013 low. The 200-day SMA will be coincident with the rising support, adding more reason for the market to find support there if price does reach the 
1.3650-70
area.
Upside:

A break above 1.3875, last week's high, would be a sign of bullish continuation.