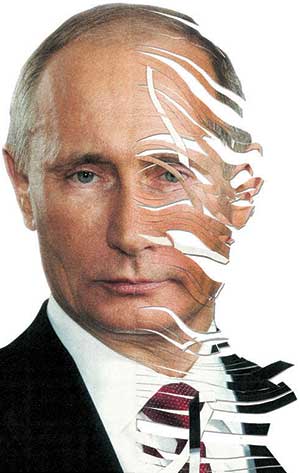 Photo Illustration by 731; Putin: Courtesy Presidential Press and Information Office
The Russian economy is rapidly weakening. Inflation is high; the ruble, weak. Interest rates are heading up, and disposable incomes have dropped. None of this affects the popularity of President Vladimir Putin, however; it's shot up ever since he defied the West over Ukraine, triggering some of the economy's woes by weakening the currency and goading the West into imposing sanctions. For now, Russians are backing Putin all the way and not blaming him for faulty economic stewardship. At the same time, they are cutting their own spending dramatically.
This situation pits two powerful forces against each other: patriotism vs. economic reality. For now, patriotism has the upper hand; but if the economy continues its slide, Russians may change their mind. "Pride and patriotism have awakened in Russians, as was the case in the USSR, and that's why they are willing to sacrifice some part of their well-being," says Dilyara Ibragimova, a lecturer on economic sociology at the Higher School of Economics in Moscow. "I think that's temporary, because the continued growth of prices will hit their pocketbooks and affect their attitude."
Putin's approval ratings took off on the back of his actions in Ukraine, first by bailing out then-President Viktor Yanukovych in December, and then in March by seizing Crimea after months of deadly protests toppled Yanukovych. Putin managed to increase his popularity to 84 percent by early August, up from 61 percent in November, his lowest ranking since June 2000. He's now only four percentage points short of a record reached in September 2008, after Russia's five-day war with Georgia, according to pollsters at the Levada Center in Moscow. Putin would win an election by 64 percentage points if a vote were held now, according to a survey by the Public Opinion Foundation in Moscow. "Political comfort is a substitute for economic comfort," says Sergey Tsybizov, the head of IT projects in the Moscow region at Russian automaker Sollers. "Essentially it's as if Russians were handed a cookie and they are happy, but almost all of them forget they need bread or soup."
The takeover of Crimea "brought a patriotic surge," Putin said on Aug. 14, urging Russians to draw together and work for the good of the country. The conflict has allowed Putin to put behind him the antigovernment protests that started in December 2011 in the wake of allegations of vote rigging in parliamentary elections.
The number of Russians who own a national flag rose to 38 percent in July, from 29 percent a year earlier, according to a Levada poll published on Aug. 21. "Russians love strong leaders, and Putin is certainly perceived to be a strong leader as he stands up to the West," says Ivan Tchakarov, chief economist at Citigroup in Moscow. After Russia endured months of increasingly onerous sanctions by the U.S. and Europe, Putin struck back with bans on food imports from countries that had penalized Russia. Tsybizov, the IT manager, says his parents in Volgograd "clapped their hands" when they heard the news of Putin's move.
A Russian consumer-confidence index had its biggest jump in more than four years last quarter, and a gauge of "social comfort" has been at a record high since June. According to pollsters at state-run VTsIOM, an index that tracks Russians' economic outlook hit a record 69 points in July, almost triple its readings in 2009 and 2010.
Yet in malls, showrooms, and supermarkets, Russians are not acting very confident. Car sales, which grew by monthly leaps of as much as 88 percent in 2007, dropped an average of 20 percent in June and July. Sales of laptops dropped 33 percent from a year earlier last quarter. At least five tour operators have gone bankrupt, as Russians cut back on foreign travel for the first time since 2009: The ruble doesn't buy what it used to abroad. In March, when Russia annexed Crimea from Ukraine, disposable incomes had their biggest drop since 2009. Investors dumped the ruble, which made imports of food and goods cost more and drove inflation upward, cutting purchasing power.
The government estimates gross domestic product will grow 0.5 percent this year, the slowest since a 2009 contraction. "Russians are treating the situation very positively but are behaving very cautiously," Mikhail Dmitriev, a deputy economy minister from 2000 to 2004, said in an interview with radio station Echo of Moscow. "The broader implications of this are related to the ambiguous perception by the Russian population of everything that's going on."