Investors looking for build wealth over time, while reducing the risks of investing in the stock market, should consider dividend stocks.
In particular, investors should focus on stocks that not only pay dividends, but also raise their dividends each year. This is the sign of a profitable business model, with sustainable competitive advantages, and powerful brands.
According to Standard & Poor's, dividends have accounted for one-third of stock market returns since 1926.
For investors interested in dividend growth stocks, there is no better place to look than the Dividend Aristocrats.
The Dividend Aristocrats list Excel sheet has 51 high-quality stocks, that have all paid rising dividends for 25+ years, and are members of the S&P 500.
If the Dividend Aristocrats don't pique your interest, there is an even more vaunted club of dividend growth stocks, the Dividend Kings.
The Dividend Kings list Excel spreadsheet has 21 companies with 50+ consecutive years of dividend growth.
This article will discuss the value in parents teaching their children about dividend investing at an early age.
Fear Of Missing Out
Research has proven that dividend growth stocks have significantly outperformed stocks that don't pay dividends.
And, the total return of the Dividend Aristocrats has outperformed the S&P 500 Index total returnOver the last decade.The Dividend Aristocrats Index returned 10% per year over this time period while the broader S&P 500 Index returned 7.2% over the same time period.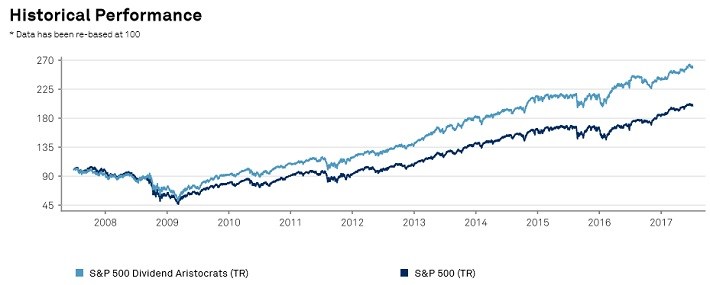 Source: Standard & Poor's
However, studies also show that many Americans are woefully under-invested.
A Gallup poll from April 2016 found that only 52% of Americans owned stocks, matching a record low over the past 19 years. Almost half of Americans do not own stocks.
As a result, despite the S&P 500 Index soaring to record highs in the years after the 2008 recession, an alarming number of Americans have not benefited at all.
This has only exacerbated the large—and growing—wealth gap in America.
This is a shame, since people who aren't investing are missing out on the life-changing wealth creation of dividend growth stocks.
Many adults are extremely hesitant to invest in the...
More