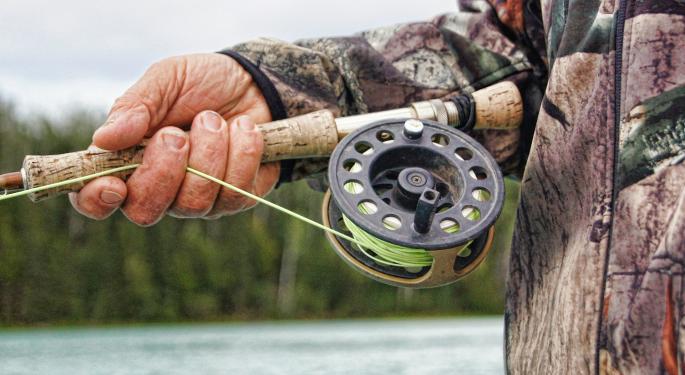 Some traders have suggested a wider-than-already-priced-in premium to the Cabelas Inc CAB 2.72% deal might be unlikely. The consortium of Goldman Sachs and Bass Pro Shops has been viewed as the likely purchaser of the assets since June 2, when Cabela's shares were trading around $52.
The stock last traded at $54.50 Thursday morning, up about 3.5 percent.
Several Things To Consider
The Street has known about this deal for quite some time:
November 5, 2015 - Reuters reported Bass Pro Shops was working on a potential deal for the company. On this day, shares opened for trade at $39.50.
January 22, 2016 - NY Post reported Cabelas was looking to sell its credit card business.
March 24, 2016 - NY Post reported Bass Pro Shops was among a potential buyer.
April 19, 2016 - Reuters reported Bass Pro Shops was working with Goldman on the deal.
June 2, 2016 - NY Post reported Goldman, Bass Pro were viewed as the likely winners of the auction for Cabela's assets.
Recall a June 4 Barron's article "Cabela's Sale Doesn't Merit a Premium Price." The article suggested, "Shareholders should seriously consider taking profits at recent price levels."
Cabela's shares have rallied more than 16 percent year-to-date and 38 percent since November, when we first heard of sale rumors.
© 2016 Benzinga.com. Benzinga does not provide investment advice. All rights reserved.