Heikin Ashi buy signal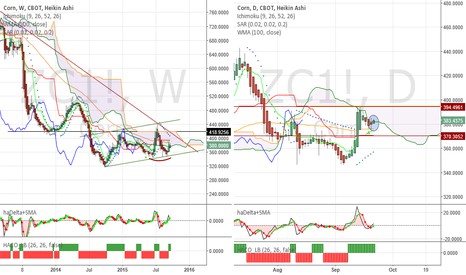 Weekly:
- No change since my last post. recent candle is too young, as it is only Tuesday, but it doesn't have a lower wick so far.
- weekly key levels are: 395 (Kijun Sen) and 415-420 (major downtrend line and weekly Kumo)


Daily:
- Ichimoku setup goes more neutral with slight bullish bias. Price did not even test Kijun, moved higher after touching Tenkan and 100 WMA.
- Heikin Ashi candle signalled sentiment change yesterday, gives a firm buy signal today. haDelta/SMA3 up.
- upper key levels in focus: 395 and 415!

Above 395, and especially above 415 we'd see a major strategic trend reversal!

Simple is beautiful, so is life with all its difficulties.
Regardless of the outcome, or result of this trade, I dedicate this post to my beloved friend, who decided to leave us yesterday... Find peace "Giorgio"!