PayPal Holdings, Inc. PYPL has made a strategic investment in LendUp, a start-up financial services firm that offers personal loans to customers, who are often ignored by traditional banks, online. The companies did not share financial terms.
LendUp co-founder and CEO Sasha Orloff stated, "We share a common vision of how technology can democratize industries, and that's exactly what LendUp is doing. We're building our own technology to create new financial products and experiences for the 56 percent of Americans shut out of mainstream banking due to poor credit or income volatility—right on a mobile phone."
PayPal Active on the Investment Front
Though details about the nature of the investment are scant, PayPal seems to be pushing for access to new services to position itself strongly in the competitive digital payments market. The company has made strategic investments in companies like Pulsate, Acron and Viva Republica.
In fact, this is the main reason why PayPal is so active on the strategic partnership front. Over the past one year, the company has put itself in a favorable place for partnerships spanning multiple original equipment manufacturers (OEM), technology companies, mobile-carriers, retailers and financial institutions.
PayPal has had an impressive run on the bourse over the last one year. The stock surged roughly 48% compared with the Zacks Internet-Software industry's rise of nearly 21%. Partnerships and investments are expected to boost this momentum going forward.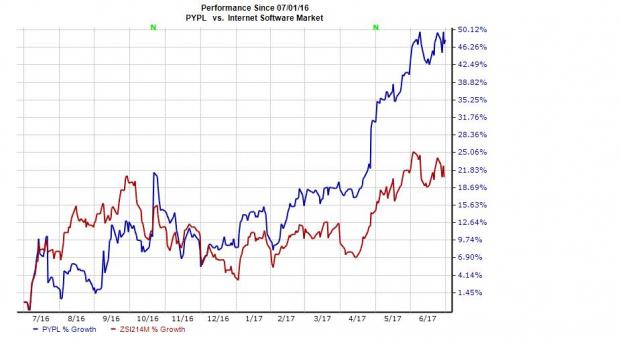 The company's ongoing strategic partnership with Visa provides enhanced consumer choice, point of sale acceptance, instant money withdrawal facility and data quality. The partnership provides certain economic incentives to the company such as Visa incentives for increased volume and greater long-term Visa fee certainty.
PayPal and Mastercard have been working together for 10 years. They currently run a multi-year PayPal Extras Mastercard co-branded consumer credit card program. Mastercard is a "clear and equal" payment choice in PayPal's wallet.
The company's partnerships with Alphabet's GOOGL Google, Facebook FB, Pinterest, Alibaba BABA, Intuit and eBay are also delivering positive results.
LendUp seems to be expanding into credit cards and other services through PayPal's investments.
PayPal Holdings, Inc. Net Income (TTM)
To Conclude
PayPal operates in the highly competitive global payments industry. Many of its participants are traditional financial services companies enjoying dominant and secure positions.
PayPal, being an intermediary, is vulnerable to competitive moves from these companies in the digital wallets space, although they have not gained much traction so far. It appears that with such strategic moves, PayPal is prepping up in advance to fend off increasing competition.
PayPal currently carries a Zacks Rank #3 (Hold). You can see the complete list of today's Zacks #1 Rank (Strong Buy) stocks here.
5 Trades Could Profit ""Big-League"" from Trump Policies
If the stocks above spark your interest, wait until you look into companies primed to make substantial gains from Washington's changing course.
Today Zacks reveals 5 tickers that could benefit from new trends like streamlined drug approvals, tariffs, lower taxes, higher interest rates, and spending surges in defense and infrastructure. See these buy recommendations now >>
Want the latest recommendations from Zacks Investment Research? Today, you can download 7 Best Stocks for the Next 30 Days.
Click to get this free report
Alibaba Group Holding Limited (BABA): Free Stock Analysis Report
Facebook, Inc. (FB): Free Stock Analysis Report
Alphabet Inc. (GOOGL): Free Stock Analysis Report
PayPal Holdings, Inc. (PYPL): Free Stock Analysis Report
To read this article on Zacks.com click here.
Zacks Investment Research