Akamai Technologies Inc. AKAM reported non-GAAP earnings of 62 cents per share for third-quarter 2017, down 9% year over year (down 5% adjusted for foreign exchange and the dilutive effect of the Soasta acquisition). Nevertheless, it surpassed the Zacks Consensus Estimate of 59 cents per share and remained flat on a sequential basis.
Revenues of $621 million beat the Zacks Consensus Estimate of $610 million and increased 6% from the year-ago quarter and almost 2% from the previous quarter. Notably, both the top and the bottom line came ahead of management's expectations in the third quarter. Strong media division traffic and growing adoption of cloud-based security solutions were the major tailwinds.
Excluding Internet Platform Customers, revenues increased 9% year over year (up 8% when adjusted for foreign exchange). Revenues from Internet Platform Customers were $51 million, down 13% year over year but flat on a sequential basis. The year-over-year plunge was primarily attributed to declining revenue contribution from large customers, namely Amazon.com AMZN, Apple AAPL, Facebook FB, Google, Microsoft and Netflix due to their do-it-yourself (DIY) initiatives.
Akamai stock has lost 22.1% year to date, underperforming the 25.2% rally of the industry it belongs to.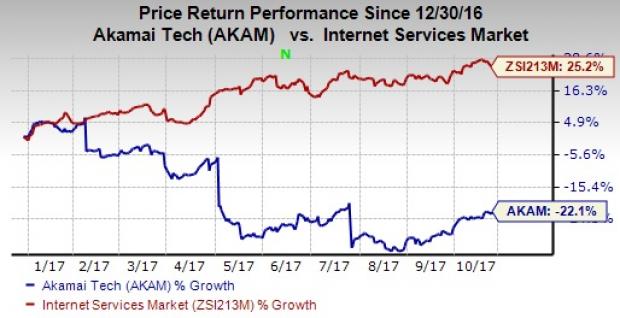 Revenue Details
Akamai currently reports its business under three main divisions – Media, Web and Enterprise and Carrier. It started this practice effective second-quarter 2016, marking a shift to a customer focused structure.
Media Division – Revenues decreased 1% year over year (up 3% when the impact of large Internet platform customers was excluded) to $273 million.
Web Division – Revenues increased 14% year over year (when adjusted for foreign exchange) to $328 million. It contributed 53% of third-quarter revenues.
Enterprise and Carrier Division – Revenues of $20 million rose 1% from the year-ago quarter.
However, the company continues to report results per its old structure (solution category-wise) as well to give investors a better perspective.
Performance & security solutions revenues totaled $381 million, reflecting 11% increase from the year-ago quarter (10% when adjusted for foreign exchange). The company's media division customers ensured a moderate use of the performance solutions, thereby impacting revenues positively.
Cloud Security solutions segment revenues were up 27% year over year to $121 million. It comprised 20% of total revenue.
Media Delivery solutions segment revenues declined 3% year over year to $183 million. However, excluding the impact of the large Internet platform customers, the figure was up 2% from the year-ago quarter.
Services and Support solutions came in at $57 million, up 12% on a year-over-year basis.
Geographically, U.S. revenues increased 1% while International revenues soared 18% (when adjusted for foreign exchange) on a year-over-year basis.
Management noted that the growing adoption of Kona Site Defender, Prolexic offerings and the company's expansion in the fields of bot management backed the impressive performance of the cloud security solutions segment.
Bot Manager Premier,which uses machine learning technologies acquired from Cyberfed to distinguish between human users and machines, has also seen accelerated growth. The company's Enterprise Threat Protectorsolution that blocks access of employees to infected sites is expected to gain from the Nominum acquisition, expected to be completed in the later part of the year.
Management is also optimistic about the robust over-the top (OTT) content viewing segment. With prominent names like Disney turning to direct consumer offers, the company is particularly hopeful about its friendly terms with well-known broadcasters.
The company hosted a single media event during the quarter that had around 17 terabits per second of traffic. This aided in the establishment of a record 60 terabits per second of traffic on Akamai's platform for that day.
Management is positive about the increase in OTT audience. The addition of a new streamlining technology that provides an experience which is a few seconds ahead of satellite and a new media client software meant for better viewing experience will aid long term growth.
Price, Consensus and EPS Surprise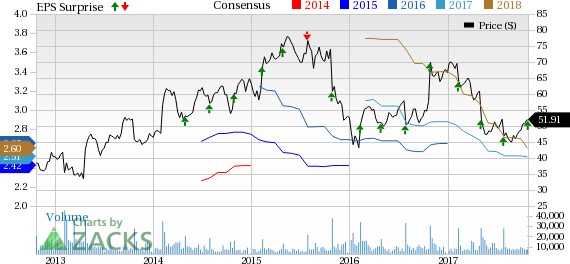 Margins
Adjusted EBITDA for the third quarter was $226 million, up $2 million from the previous quarter. Adjusted EBITDA margin was 36%, down 1% from the second quarter, primarily due to the SOASTA acquisition impact.
Non-GAAP operating margin was 23% for the quarter, down 1% from the previous quarter.
Balance Sheet & Cash Flow
Akamai ended the quarter with $1.4 billion in cash, cash equivalents and marketable securities. The company spent $129 million on share repurchases of around 3 million during the quarter.
Management remains optimistic about the strong balance sheet that aided the acquisition of SOASTA in the second quarter and the anticipated closing of the acquisition of Nominum in the fourth quarter.
Guidance
Management expects fourth-quarter revenues to be in the range of $638 million to $656 million, assuming 1.5 months of Nominum revenues.
The integration of SOASTA and Nominum is anticipated to negatively impact EBITDA margins in the near term. In 2018, EBITDA margins are expected to be in the mid-30% range and operating margin is expected to be in the lower 20% range.
With an improving media and web business growth rate, management anticipates to return to high 30% EBITDA margin range going ahead.
Zacks Rank
Akamai currently has a Zacks Rank #5 (Strong Sell).
You can see the complete list of today's Zacks #1 Rank (Strong Buy) stocks here.
Zacks' Hidden Trades
While we share many recommendations and ideas with the public, certain moves are hidden from everyone but selected members of our portfolio services. Would you like to peek behind the curtain today and view them?
Starting now, for the next month, I invite you to follow all Zacks' private buys and sells in real time from value to momentum...from stocks under $10 to ETF to option movers...from insider trades to companies that are about to report positive earnings surprises (we've called them with 80%+ accuracy). You can even look inside portfolios so exclusive that they are normally closed to new investors.
Click here for Zacks' secret trade>>
Want the latest recommendations from Zacks Investment Research? Today, you can download 7 Best Stocks for the Next 30 Days.
Click to get this free report
Amazon.com, Inc. (AMZN): Free Stock Analysis Report
Akamai Technologies, Inc. (AKAM): Free Stock Analysis Report
Facebook, Inc. (FB): Free Stock Analysis Report
Apple Inc. (AAPL): Free Stock Analysis Report
To read this article on Zacks.com click here.
Zacks Investment Research