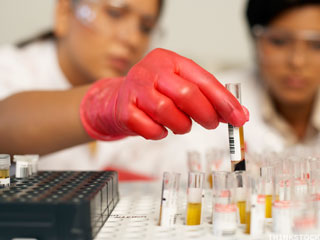 A fool and his money are soon parted, the old idiom goes. I'll add this: The money parting often happens faster to fools who invest in sketchy small-cap biotech stocks. Just ask the guys holding shares of Provectus Biopharmaceuticals ( PVCT), Galena Biopharma ( GALE) or Prana Biotech ( PRAN) before they all crashed hard.
A reader, Brent B., wrote the following seven-step primer on how NOT to invest in biotech stocks. Like all good satire, there's an element of truth here, so if you recognize yourself below or otherwise own Northwest Biotherapeutics ( NWBO), Arena Pharmaceuticals ( ARNA) or MannKind ( MNKD), stop making mistakes and seek professional help -- fast.
The Seven Deadly Sins of Biotech Investing:
1. Listen intently to all conference calls and analyst meetings because management can be counted on to speak freely and openly about potential pitfalls in the business, ongoing research and clinical trials. Management will also place all drug development programs in the proper industry context, pointing out competitive risks, for example. History teaches that biotech executives rarely spin or otherwise try to promote their stock. On the whole, they are an honest bunch who always place shareholder interests above their own, so it's a waste of time to seek outside, expert perspectives.
2. Find a good Internet message board to discuss how great an investment the biotech stock you just purchased really is. When spending time on this message board, be sure to read closely all posts from those who are the most vocal proponents of the biotech stock you own. These people demonstrate their commitment by never writing anything critical. No one wants to attend a church where the preacher has doubts. The best posters will write at length about how the science behind the biotech stock you own has no rival and will completely change the world we live in. Lucky for you the world does not know this yet; you are one of a select few!
You may safely ignore others who are more critical. It is well known these bashers are paid by hedge funds shorting your biotech stock and are only hanging out on the message board to shake your confidence. Once you sell and the stock drops, these hedge funds will swoop in and buy the stock lower. Don't let them do this! Honestly, if someone is not a true believer why would he be hanging out on a biotech stock message board...
More