While hardly surprising following yesterday's orchestrated leak that Tesla has been having serious issues penetrating the Chinese market, few expected its Q4 numbers to be quite so bad:
Non-GAAP Revenue: $1.1BN, vs Est. $1.22BN
Non-GAAP EPS: loss of $0.13 (GAAP loss of 86 cents), vs Est. of a $0.32 profit
And cash burn of a whopping, and unprecedented $455 million in just one quarter, which brings TSLA cash to $1.9 billion down from $2.4 billion a quarter ago, suggesting an equity dilution, or convertible offering at least, is coming soon.
Furthermore, anyone waiting for some clarity on just what happened in China will keep on waiting. This is all TSLA said:
Despite initial challenges in China, we remain convinced of the vast potential of this market and are concentrating our efforts on the cities we are in currently, before launching into new cities. Our China initiatives include simplifying the buying process there by having Tesla personnel install charging points at customer homes or  businesses well before vehicle delivery. We now offer a turn-by-turn navigation option in China that we provided retroactively through a remote software upgrade to all our customers with appropriately optioned cars, and we believe our new executive seats and second row center console will be quite popular with new China customers.
So nothing really on the reason why car sales and revenue in the quarter were both so weak.
The only saving grace for TSLA was its Outlook, which true to fashion, has been extremely optimistic as usual.
In 2015, we expect to deliver about 55,000 Model S and X vehicles, representing more than a 70% increase over 2014 deliveries. About 40% of these deliveries are planned for the first half of the year. First quarter production is expected to be about 10,000 vehicles due to it being a shorter quarter than in Q4 and approximately a week of factory downtime to allow the workforce to rest and tooling upgrades. Cars in transit to Europe and Asia must grow to support those markets, so we plan to deliver approximately 9,500 vehicles in Q1, an increase of over 47% from Q1 last year. In Q1, we expect to directly lease about the same percentage of cars that we did in Q4.
If the Chinese demand problems persist, and if the new BMW i8 rollout is even modestly successful, and if oil does not rebound, good luck with all that.
Finally, here is the quarter in just three chart:
Revenue: GAAP and non-GAAP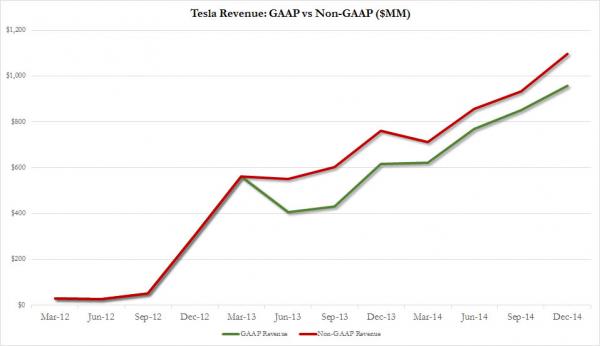 EPS: GAAP and non-GAAP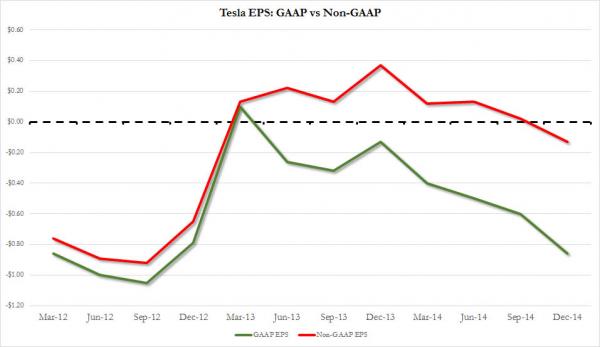 And Cash burn: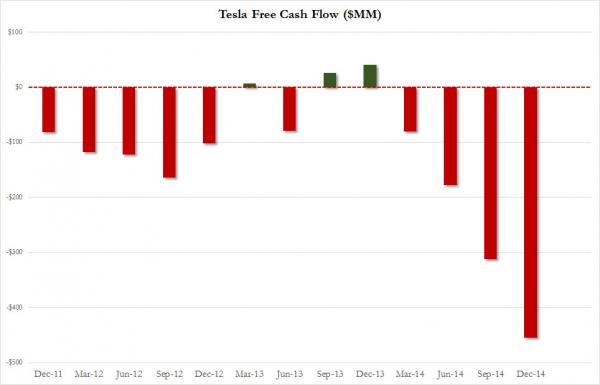 And a bonus: the table showing TSLA GAAP to non-GAAP reconciliation. Because it never gets old.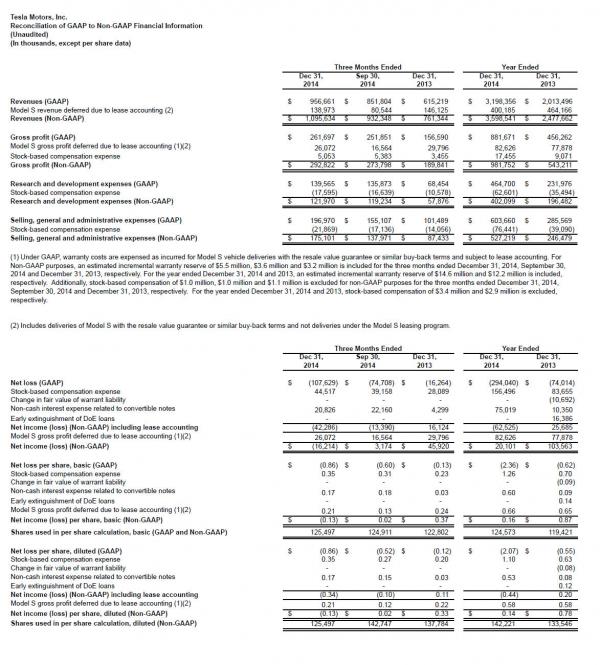 And Cash Blow: