Boston Scientific Corporation BSX is scheduled to report its first-quarter 2016 results before the opening bell on Apr 27. Last quarter, the company had posted a positive earnings surprise of 4.00%. The four-quarter trailing average beat is pegged at 3.28%. Let's see how things are shaping up for this announcement.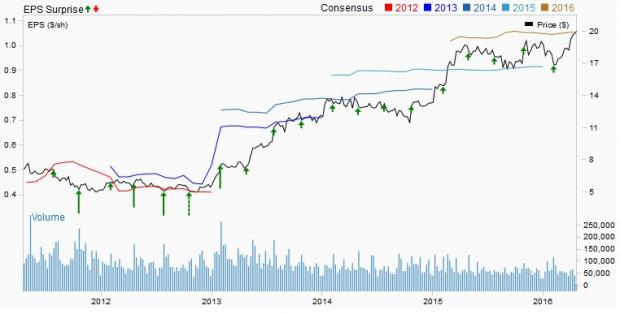 Factors at Play
Pricing pressure has continued for Boston Scientific over the past several quarters. The full-year 2015 adjusted gross margin was impacted by a significant 100 basis point pricing headwind. However, on an encouraging note, the company foresees this headwind retracting gradually on improved price management, principally through market segmentation, tiered offerings and standard cost-reduction programs. This benefit is likely to be reflected in the first quarter.
With regard to adjusted operating margin, Boston scientific projects sequential improvement of the same in the first quarter, with more noticeable improvement down the line in the Rhythm Management segment. This upside will be backed by the company's realization of full benefits of 2016 product costs and on leveraging the improved top-line performance expected from the global CRM and EP franchises.
Additionally, the plant network optimization program completed at the end of 2015, which transferred a portion of the company's EP manufacturing to lower cost locations, is expected to contribute to the adjusted operating margin improvement. All these factors have accordingly driven the company's full-year 2016 adjusted operating margin expectation to 18% and more than 20% for 2017 in Rhythm Management.
We are also optimistic about the company's gradually improving performance in Interventional Cardiology, led by an innovative portfolio and robust commercial teams globally. The company is consistently gaining share in a number of cardiovascular segments and DES, as a differentiated platform of premier and synergy, continues to build momentum and gain share globally.
Meanwhile, MedSurg is expected to demonstrate consistent performance, led by endoscopy. Urology and Women's Health are also estimated to grow beyond market levels on the back of investment strategies in key international geographies.
We are, however, concerned about Boston Scientific facing severe currency headwinds over the recent past. We note that, with the company recording 47% of its sales from the international market, it remains highly exposed to currency fluctuations. In 2015, foreign exchange headwinds impacted the company's adjusted earnings by 10 cents a share. With the trend expected to linger, the company's revenues are expected to be hit by fluctuations in foreign exchange rates, going forward. For 2016, Boston Scientific expects currency headwinds to the tune of approximately $150 million on revenues or 6 cents per share on adjusted earnings relative to the year-ago quarter.
Further, sluggish CRM sales over the recent past continue to weigh on the stock. At the beginning of 2015, Boston Scientific predicted a slowdown in worldwide CRM sales for the entire year due to replacement cycle headwinds and competitive launches in the U.S. The company continues to anticipate softness in U.S. CRM sales even in the first quarter of 2016 as it awaits the launch of key new products in the country.
On an overall basis, Boston Scientific has provided its first-quarter 2016 guidance. The company projects adjusted earnings in the band of 23–25 cents per share on revenues of $1.89–$1.94 billion.
Earnings Whispers
Our proven model does not conclusively show that Boston Scientific is likely to beat earnings this quarter. This is because a stock needs to have both a positive Earnings ESPand a Zacks Rank #1 (Strong Buy), 2 (Buy) or 3 (Hold) for this to happen. That is not the case here as you will see below.
Zacks ESP: Boston Scientific's Earnings ESP is 0.00%, since both the Most Accurate estimate and the Zacks Consensus Estimate stand at 24 cents.
Zacks Rank: Boston Scientific has a Zacks Rank #2 (Buy) which increases the predictive power of ESP. However, a breakeven ESP makes surprise prediction difficult.
Note that, we caution against stocks with a Zacks Rank #4 or 5 (Sell-rated stocks) going into the earnings announcement, especially when the company is seeing negative estimate revisions.
Stocks to Consider
Here are three companies you may want to consider as our model shows they have the right combination of elements to post an earnings beat this quarter:  
Align Technology Inc. ALGN has an Earnings ESP of +12.82% and a Zacks Rank #2.
Becton, Dickinson and Company BDX has an Earnings ESP of +2.49% and a Zacks Rank #2.
Zimmer Biomet Holdings, Inc. ZBH has an Earnings ESP of +1.55% and a Zacks Rank #2.
Want the latest recommendations from Zacks Investment Research? Today, you can download 7 Best Stocks for the Next 30 Days. http://www.zacks.com/registration/pfp/?ALERT=RPT_7BST_LP194&... blog">Click to get this free report >>
Want the latest recommendations from Zacks Investment Research? Today, you can download 7 Best Stocks for the Next 30 Days.
Click to get this free report
BOSTON SCIENTIF (BSX): Free Stock Analysis Report
ALIGN TECH INC (ALGN): Free Stock Analysis Report
BECTON DICKINSO (BDX): Free Stock Analysis Report
ZIMMER BIOMET (ZBH): Free Stock Analysis Report
To read this article on Zacks.com click here.
Zacks Investment Research