Yesterday, the AUD/USD rebounded after the release of Australian jobs data. But if we look across the board, we can see that it was more a story of USD pulling back than Aussie-strength. 

AUD/USD 4H Chart 3/13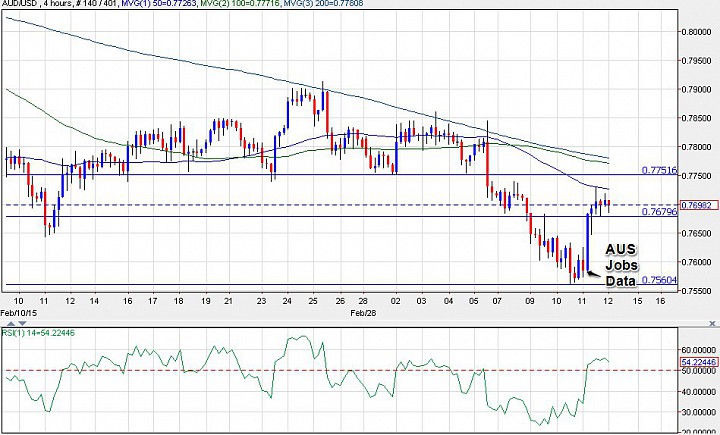 (click to enlarge)
During the 3/12 session, price edged up a little further and stalled before reaching the 0.7750 pivot. This is a key resistance area, and as long as AUD/USD stays under it, the bearish outlook remains strongly in play. The 4H chart shows that the RSI is also under 60, which means the bearish momentum is also still in play. 

Now, if price falls back below 0.7675, we should probably anticipate another attempt during the 3/13 Friday session, back to at least 0.76 if not the 0.7560 low. If that does happen, we should anticipate further decline in the incoming week, with risk of breaking below the 0.7560 low.

However, if price manages to climb back above 0.78, it would clear the cluster of 200-, 100-, and 50-period SMAs in the 4H chart, which would take away the bearish bias. In that scenario, we should be looking for another bullish correction attempt with 0.79 up to 0.80 in sight. But for now, the market is likely going to favor the bearish scenario, so get ready for another bearish continuation swing during the 3/13 session.