These days, growth stocks have become all the rage and why not, with tech giants like Amazon AMZN soaring. Picking growth stocks can be fun and they can sometimes lead to big gains if investors jump on board while the company is still experiencing strong growth forecasts.
With this in mind, investors might consider GoPro GPRO as a company with outsized earnings growth potential. The founding father of action cameras has taken some hits since going public. Yet, over the last three quarters, GoPro has beaten earnings expectations. GoPro has also seen its stock price climb nearly 8% since the start of the year. This movement won't blow anyone away, but it is a sign that the company could be headed in the right direction.
After posting a quarterly loss in the year-ago period, GoPro is expected to see its earnings skyrocket 100.21% in the third-quarter, based on our current consensus estimates. On top of that, GoPro's revenues are projected to jump 30.65% this quarter to $314.2 million.
GoPro is currently a Zacks Rank #1 (Strong Buy) that also sports an "A" for Growth in our Style Scores system. And within the last 60 days, GoPro has received four upward earnings estimate revisions for Q3 along with no downward revisions. In this same time frame, GoPro has earned three upward revisions for its full-year.
GoPro, Inc. Price, Consensus and EPS Surprise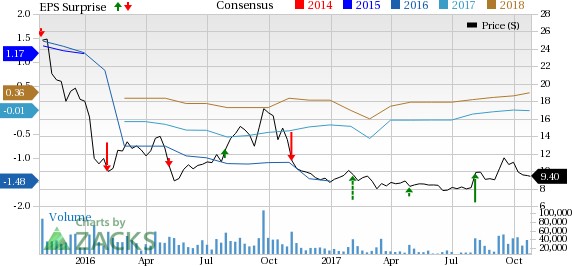 GoPro, Inc. Price, Consensus and EPS Surprise | GoPro, Inc. Quote
GoPro's earnings are projected to climb 99.05% for the full-year, after reporting a loss in 2016. What's more, the company's revenues are expected to jump almost 13% to hit $1.34 billion.
Shares of GoPro have gained over 16% within the last 12-weeks. This positive movement has been driven, in part, by a commitment to its bottom line, which involved restructuring along with launching new products in time for the vitally important holiday season.
What might make potential GoPro investors even more excited is the fact that shares of the action camera company currently sit over 30% below their 52-week high. This leaves room for the stock to soar when GoPro reports its Q3 earnings next week, without having to cross over a new threshold.
GoPro is set to report its third-quarter earnings on Nov. 1.
Zacks' Hidden Trades
While we share many recommendations and ideas with the public, certain moves are hidden from everyone but chosen members of our portfolio services. Would you like to peek behind the curtain today and view them?
Starting today, and for the next month, you can follow all Zacks' private buys and sells in real time. Our experts cover all kinds of trades: value, momentum, ETFs, stocks under $10, stocks that corporate insiders are buying up, and companies that are about to report positive earnings surprises. You can even look inside portfolios so exclusive that they are normally closed to new investors. Click here for Zacks' secret trades>>
Want the latest recommendations from Zacks Investment Research? Today, you can download 7 Best Stocks for the Next 30 Days.
Click to get this free report
GoPro, Inc. (GPRO): Free Stock Analysis Report
Amazon.com, Inc. (AMZN): Free Stock Analysis Report
To read this article on Zacks.com click here.
Zacks Investment Research