Dr Pepper Snapple (DPS) purchased Bai Brands (private) for $1.7 billion last week to take full control of a high-growth drinks producer in the health-oriented beverage vertical.
Even including the tax benefits of $400 million (whittling the effective purchase price down to $1.3 billion), Dr Pepper still paid a hefty multiple for the purchase at approximately 3.1x sales. This values the company at more than double its price over last year when Dr Pepper acquired a 3% stake in the company.
While the purchase is being funded entirely with debt, I believe the leverage increase is largely immaterial. Back in August, I calculated that Dr Pepper is best levered at around a 50%-55% debt-to-total capital ratio.
Illustrated based on a WACC versus debt-to-capital ratio: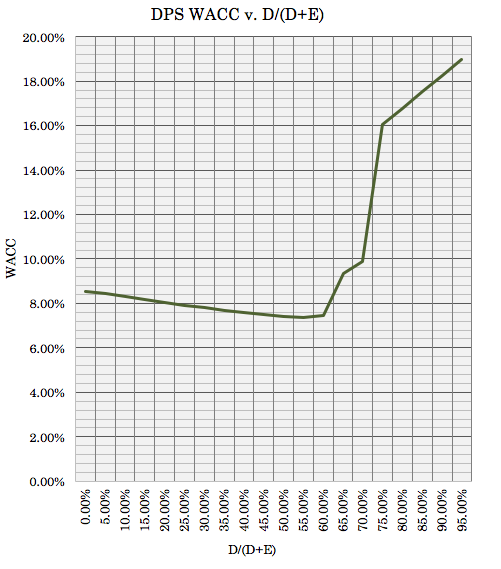 Illustrated in terms of stock price: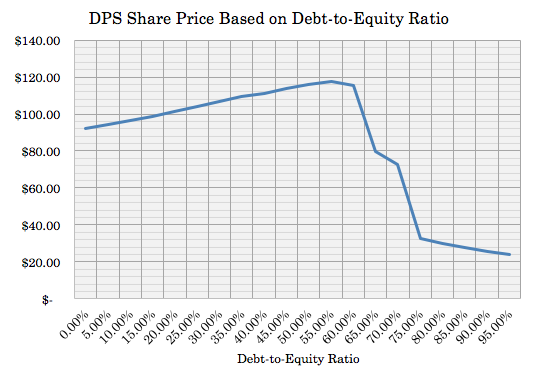 Even if the company were to stay a third of the way below this mark to account for any endogenous or exogenous shocks to its business, Dr Pepper is still only levered at about half its "safe optimal" point.
The acquisition does, however, have two main disadvantages for shareholders. It will dilute near-term earnings with a projected loss of three cents per share in 2017. Share repurchases are also likely to slow down such that the company can tend to interest and marketing expenses associated with the acquisition.
With that said, the purchase will help expand Dr Pepper's product selection, which is under-diversified and more soft drink-heavy than main competitors Coca-Cola (KO) and PepsiCo (PEP).
The health and wellness vertical should be an area of interest for all soft drinks makers on the basis of its growth potential related to health and wellness related concerns. Dr Pepper projects that the Bai purchase will be accretive to earnings starting in 2018.