In the prior Chart of the Week I posed the question, Is this a big market top? I gave my reasons why it wasn't, but also said what would cause the stronger indices to move higher or correct lower within their uptrends. As we know now, they move lower and broke their daily uptrends. Is that all there is?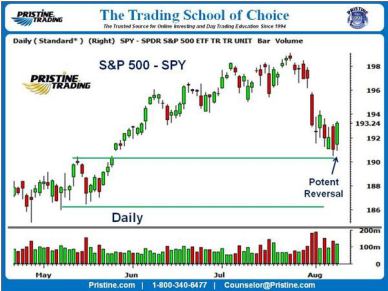 Since that prior Chart of the Week, the stronger indices have fallen between 3 and almost 5 percent. Not much of a correction, but recent prior corrections have only been in the area of .5 percent. It's too early to tell if this minor correction is over, but buyers on Friday were able to negate Thursday's big down day with a potent reversal. This is suggesting that buyers have taken control – at least short-term. Not every index had such a reversal. Let's look at one that did and one that did not.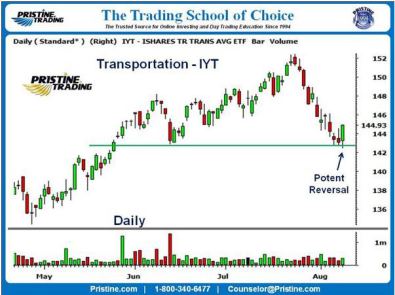 The Transportation Index shown above with the ETF symbol IYT also had a potent reversal at its area of support. I always look at the Transports to confirm strength or weakness within the boarder markets. Short-term traders can look at the stocks in the Transportation index for opportunities. Some look better than others, so look at them to cherry pick. The IYT ETF is an option, but some stocks in the index look better than the index for a short-term bounce.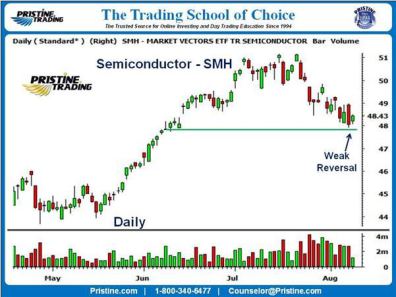 The Semiconductor Index shown above with the ETF symbol SMH did not have a potent reversal on Friday. The reversal was weak in comparison to the others shown and could be pointing that the correction we have seen so far – isn't all there is. Meaning, there is more to come after the short-term strength suggested by the potent reversals seen in the other indices. The Semiconductor index is one of the markets I showed in the prior Chart of the Week that lead the others lower. It's still relatively weak.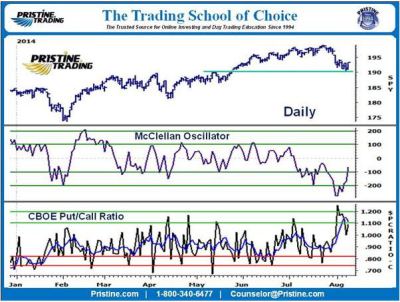 An overview of two market internals I monitor that are providing interesting short-term insights into breadth and sentiments at this time. The McClellan Oscillator measures market breadth (internal weakness or strength or the lack thereof) of the broader markets. Of note at this time, is that the oscillator has become more extreme on the downside than any other time this year. This shows that internally there has been much more damage done than the small pullback in S&P 500 chart suggests. Historically, this extreme a reading precedes a bounce and then more selling before "the low" of the correction is seen.
The CBOE Put/Call Ratio at the bottom of the chart is at a bullish extreme (many more puts/bearish bets than calls/bullish bets) not seen all year. This tells us that option traders' bets are all-in for a big drop. They were all-in before Friday and a heads up that the downside was limited short-term. When this group of traders are betting heavy on the market's direction it typically doesn't go that way. Especially, after it's already dropped to support as most indices had. If they were not betting on more of a drop it would suggest that the markets would drop further without much of a bounce. In other words, if the majority of option traders don't believe in the drop, odds are good that it will happen.
So, is that all there is? Join us at this week's After Market Lessons for more of a discussion on this, other markets, strategies and more to advance your Stock Market Education with Pristine.