Women graduating from college with business degrees are less likely to get early job offers than their male counterparts, according to new data from Bloomberg Businessweek. The data show that 52 percent of female business majors who graduated this year had been offered a job by January, compared with 57 percent of male students.
The students were surveyed as a part of Bloomberg Businessweek's 2014 Undergraduate Business School Rankings, released in April, but the information on job offers was not public until now.
The 5 percentage-point gap may seem small, but the results are statistically significant, indicating that for the 25,000 students surveyed at 132 colleges, gender is a factor in predicting the likelihood of getting an early job offer.
"There are a limited number of offers. It's extremely competitive, and if people are choosing men first, then that's a hugely significant decision," says Jessica Kennedy, a professor at Vanderbilt University's Owen Graduate School of Management.
Part of the problem is that in an interview, appearing assertive can hurt women, but so can a lack of confidence, Kennedy says. "It is more difficult as a woman to be perceived positively as both competent and likable, relative to what a man faces," she notes.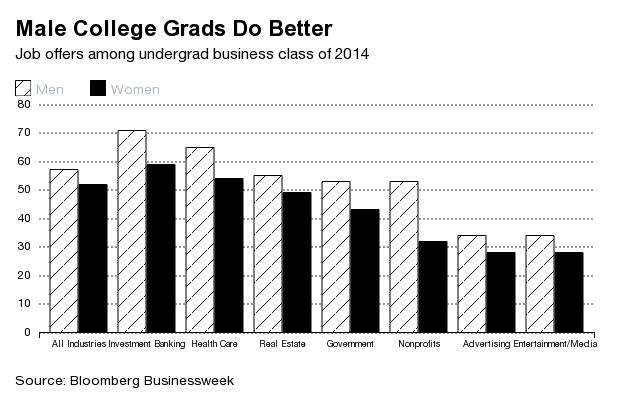 Some industries show a big advantage for men, even fields that primarily attract women. Jobs at nonprofit companies, which women are three times as likely to pursue as men, put women at the biggest disadvantage, with a larger gap in job offers than investment banking. Among men seeking a nonprofit job, 53 percent had an offer by January, compared with 32 percent of women.
In health care, an industry that also lures a larger share of female than male business majors, 54 percent of women received job offers, compared with 65 percent of men.
Government positions went to 53 percent of male business majors and only 43 of their female peers. Women are 15 percent more likely than men to seek government jobs.
Employers in woman-heavy fields, such as government and nonprofits, may hire men because they think it will make the industry seem more prestigious, says Kennedy.
Advertising, public relations, entertainment, and media—which combined attract 15 percent of female business undergrads but only 8 percent of male business grads—also show a significant job gap in favor of men.
On the other hand, investment banking is male-dominated—attracting 7 percent of male business grads but only 2 percent of female business grads—and unequal. Some 71 percent of men entering the industry had an offer, compared with 59 percent of women. Women are both outnumbered and disadvantaged.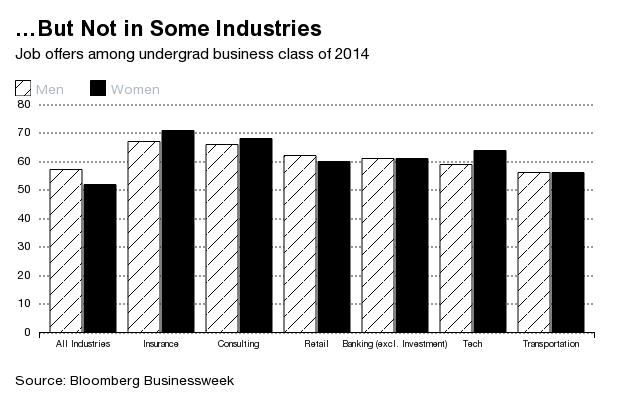 In some industries where women are rarer, they seem to be more successful. In technology, women are more likely to receive offers than men, despite the fact that two-thirds of all undergrad business students entering the field are men. The situation is similar in the insurance industry: More men enter, but women have a small edge.
The most equal industries, where women and men were offered jobs at roughly the same rate, were banking and financial services (excluding investment banking), consulting, and retail.
Job-seeking graduates should connect with people who have influence, regardless of gender, says Kennedy. Having connections within a company can mitigate snap judgments that interviewers may make about women candidates. Kennedy tells her female students to build a network of people who "have a personal connection to you and are willing to pull for you from the inside."