Merck & Co., Inc. MRK shares were down more than 1% in after-hours trading on Wednesday after the company announced that the FDA has placed a clinical hold on three combination studies of Keytruda in multiple myeloma, a form of blood cancer.
While the KEYNOTE-183 and KEYNOTE-185 phase III studies have been placed on full clinical hold, cohort 1 of KEYNOTE-023 phase I study has been placed on partial clinical hold.
Shares of Merck have underperformed the Zacks Classified Large Cap Pharma industry so far this year. The company has gained 9% while the industry rose 12.1% in the period.
We remind investors that last month, Merck was recommended by an external Data Monitoring Committee to stop new enrolment in the KEYNOTE-183 and KEYNOTE-185 phase III studies to allow investigation of death of patients taking Keytruda. However, Merck had then said that patients enrolled in the two studies would continue to receive the treatment.
While the KEYNOTE-183 study was evaluating a combination of Keytruda, Celgene Corporation's CELG Pomylast and dexamethasone, KEYNOTE-185 was studying a combination of Keytruda, Celgene's Revlimid and dexamethasone
With KEYNOTE-183 and KEYNOTE-185 now under full clinical hold, all patients enrolled in the two studies will discontinue treatment with Keytruda.
The latest decision by the FDA was taken based on data currently available from the studies, which showed that the risks of the combination therapy outweigh any potential benefit for patients with multiple myeloma.
KEYNOTE-023 is evaluating Keytruda in combination with backbone treatments in multiple myeloma patients. Cohort-1 of the study was evaluating a combination of the drug with Revlimid and dexamethasone in patients who have received anti-multiple myeloma treatment with an immunomodulatory drug. Patients enrolled in this cohort will also discontinue treatment. The other cohorts of the study will continue.
Keytruda is presently marketed for the treatment of first-line as well as second-line non-small cell lung cancer (NSCLC), advanced melanoma and previously treated recurrent or metastatic head and neck cancer (HNSCC).
Keytruda registered sales of $1.4 billion in 2016. It is expected to grow with a series of regulatory approvals for label expansion received this year, the most important being for classical Hodgkin lymphoma, the first label expansion in a type of haematological cancer, and in combination with Eli Lilly and Company's LLY Alimta for first-line lung cancer
The latest clinical hold is a setback for Keytruda, which has otherwise been on a roll this year and is touted as a significant top-line driver for Merck.
Meanwhile, Keytruda is also being studied for more than 30 types of cancer in 500 trials. Almost 50% of these trials are in combination with other cancer drugs. Merck is collaborating with several companies including Amgen, Inc. AMGN, Incyte, Glaxo and Pfizer separately for the evaluation of Keytruda in combination with other regimens.
Merck & Company, Inc. Price and Consensus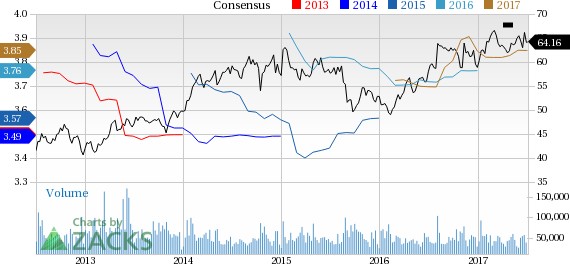 Merck & Company, Inc. Price and Consensus | Merck & Company, Inc. Quote
Zacks Rank
Merck currently carries a Zacks Rank #2 (Buy). You can see the complete list of today's Zacks #1 Rank (Strong Buy) stocks here.
Today's Stocks from Zacks' Hottest Strategies
It's hard to believe, even for us at Zacks. But while the market gained +18.8% from 2016 - Q1 2017, our top stock-picking screens have returned +157.0%, +128.0%, +97.8%, +94.7%, and +90.2% respectively.
And this outperformance has not just been a recent phenomenon. Over the years it has been remarkably consistent. From 2000 - Q1 2017, the composite yearly average gain for these strategies has beaten the market more than 11X over. Maybe even more remarkable is the fact that we're willing to share their latest stocks with you without cost or obligation. See Them Free>>
Want the latest recommendations from Zacks Investment Research? Today, you can download 7 Best Stocks for the Next 30 Days.
Click to get this free report
Eli Lilly and Company (LLY): Free Stock Analysis Report
Merck & Company, Inc. (MRK): Free Stock Analysis Report
Celgene Corporation (CELG): Free Stock Analysis Report
Amgen Inc. (AMGN): Free Stock Analysis Report
To read this article on Zacks.com click here.
Zacks Investment Research