Jana Partners LLC just isn't a fan of Big Gas. In a frosty letter delivered to EQT Corp. on Wednesday, the activist investor heaped scorn on the company's recently announced deal to acquire fellow natural gas producer Rice Energy Inc.:
An error has occurred
You have 1 free Businessweek article left.
Register for more.
Already a subscriber? Link your Bloomberg Terminal account or your Businessweek subscription account to access all articles.
While EQT would indeed become the country's largest natural gas producer, there is no unique value that accurues [sic] to shareholders generated simply by being the biggest.
Now Jana, which has taken a 5.8 percent stake in EQT, plans to mount a campaign to scuttle the $8.2 billion cash-and-stock deal. Rice's discount to the implied offer has duly widened this week (news of Jana's stake surfaced on Monday):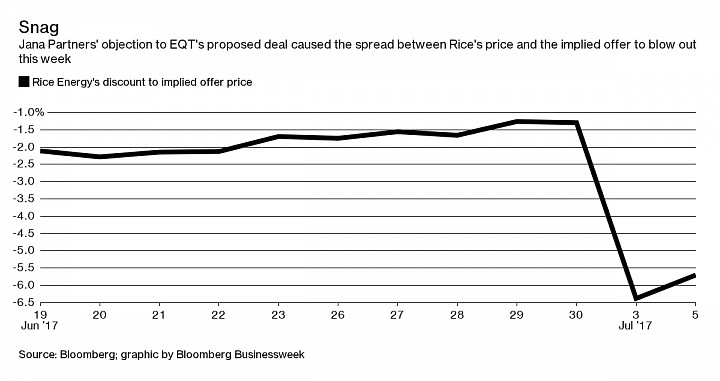 EQT hasn't done a good job of marketing this deal so far and its vaguely defined synergies, in particular, provided an opening for Jana. On the other hand, the deal's underlying logic of consolidating positions in Appalachia in order to drill for gas more efficiently still makes sense. Notably, after an initial sharp sell-off, EQT's stock had recovered virtually all that ground before Jana showed up, suggesting other investors had gotten over their initial fright.
That merger arbitrage spread on Rice's stock will no doubt bounce around from here on while Jana and EQT slug or talk it out. But there's another...
More