Either today or in the next few days, I will be watching for a day trade short in the GBP/USD.  This currency pair is at all time highs, and is currently in a small range at the previous high's resistance levels.  This level and price action could present opportunity for short day trades and scalps. 
---
All time highs are considered an extreme price level, which means potential opportunity.  In this case, we have seen several smaller highs near the top, but they have been unable to break through the resistance.  I would watch the 1.6840-1.6880 range for short entries.  Bearish candle closes on the 60 minute chart or failed highs in this resistance level could indicate entries for potential bearish activity in the near-term.
---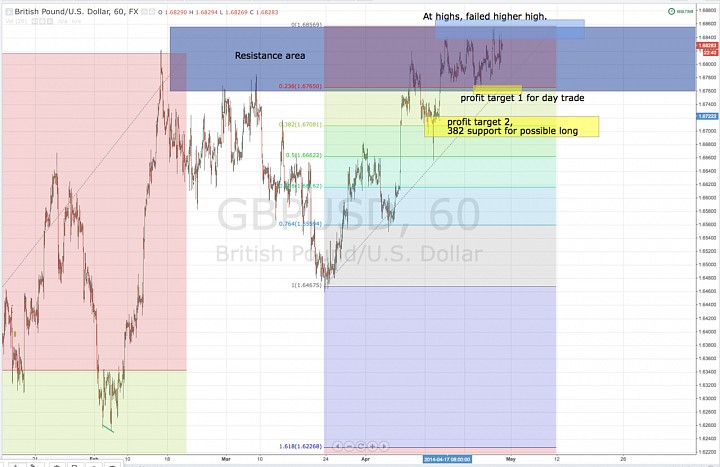 ---
The larger picture is still very bullish, which is why any short trades will have conservative price and time targets, requiring them to be day trades and scalps only.  The first profit target is in the 1.67500-1.67800 area, which is a previous minor support level.  If price action continues downward, the second profit target would be in the 1.6700-1.6730 area, which is a previous support and the Fibonacci 0.382 level of the recent upswing.  This level will likely act as a support, and may even become a support for long day trades, making it a good exit area.
---
If price doesn't provide significant entries for short trades, or just pushes further up out of the resistance level, I would cancel plans for short trades in the near-term.  However, because price is at all time highs, I will continue to watch for indications of weakness and greater setups. 
---
To learn more about the analysis and methodology used to provide this insight, visit http://smbu.us/smbwh