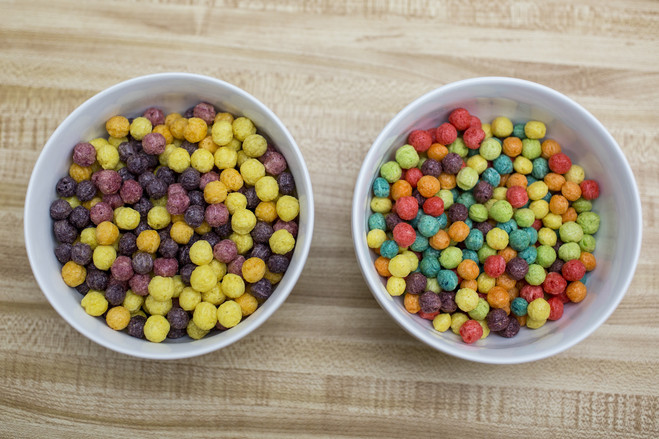 Yes, some consumers are clamoring for cold-pressed beet juice and quinoa chips. But that doesn't mean they don't also want Red 40, Blue 1 and Yellow 6.
General Mills Inc., maker of Trix, the iconic child-friendly breakfast cereal, learned this lesson the hard way after it started selling all-natural Trix in early 2016 made instead with radishes, purple carrots and turmeric.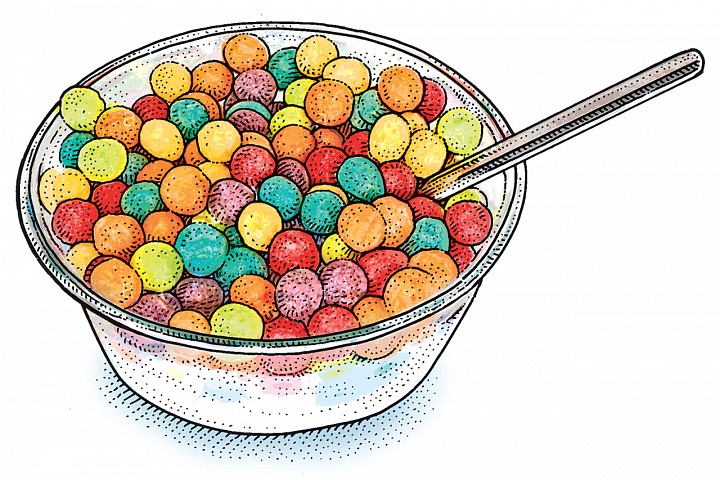 "Change it back!!" wrote Denver-area mother and photographer, Ashley Carara, on Facebook shortly after the new recipe hit shelves.
She said in an interview Thursday she likes the way the artificial colors and high-fructose corn syrup look and taste. The new recipe—not so much. "My kids find the color of the new Trix cereal quite depressing," she said.
So change it back is what the company did. General Mills has decided to reintroduce the original, more-vibrant Trix, artificial flavorings and all, and will start selling it on supermarket shelves alongside the more wholesome version in October.
The reintroduction of Classic Trix is a reversal of General Mills' pledge two years ago to remove artificial colors and flavors from all its cereal brands. It said the seven reformulated, all-natural cereals boosted sales by 6% in early 2016. At the same time, natural-ingredient haters flooded the company with calls, emails and social-media posts, according to Mike Siemienas, a spokesman.
It turns out consumers "don't all want one thing," he said.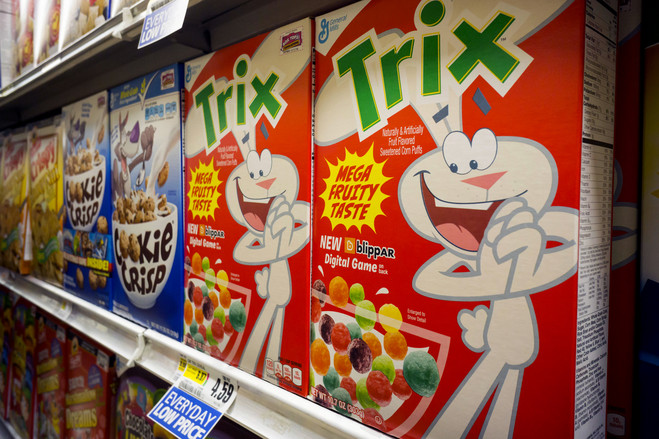 "It's basically a salad now," said 35-year-old Justin Storer of the new Trix. The Chicago lawyer said he gets most of his lunches from the 7-Eleven across the street from his office while his co-worker eats "weird vegetable chips from Trader Joe's and puffed kale."
Food giants have long sought to shed additives to appease consumers' desire for simple, natural ingredients. Kellogg Co. also said two years ago it would remove artificial dyes from Froot Loops cereal and Nutri-Grain bars by the end of 2018. It hasn't released the new versions yet, a spokeswoman said.
Americans' love affair with processed foods is enduring, however, despite a decade of finger-wagging from nutritionists, influential celebrities and trendy grocery chains such as Whole Foods peddling healthy and sometimes obscure ingredients to the masses.
Sales of products without artificial colors or flavors are rising faster than overall food and beverage sales, according to Nielsen and Label Insight. But more than 25,000 products in the U.S. still contain high fructose corn syrup, some 46,000 are made with artificial colors and 63,000 have artificial flavors.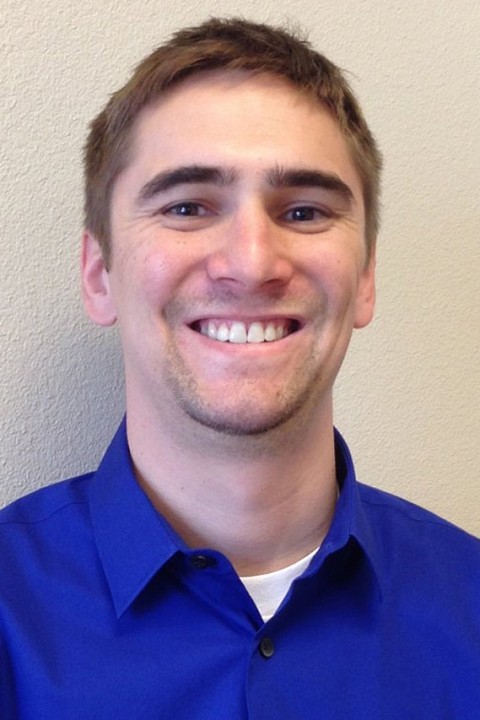 Philip Fauria, a 30-year-old optometrist who recently ate Reese's Puffs cereal for breakfast and Pringles with an Oscar Mayer turkey sandwich for lunch, said he's not a fan of trendy, natural and organic food, and is not embarrassed about it. He's never tried kale chips because Pringles are "just too good."
Mr. Fauria has tried and failed to find Apple Jacks in Sprouts and Whole Foods stores. "It's an atrocity," he said. Once, he ended up with Bear Naked cereal, which he said gets too soggy in the milk. "Apple Jacks hold up better." (That could be the artificial additives. Kellogg makes both Apple Jacks and Bear Naked.)
Whole Foods declined to comment. Sprouts Farmers Market Inc. spokeswoman Donna Egan said Sprouts is meant to be a "destination for consumers who are interested in purchasing healthy products."
Other products including Pringles and Pop-Tarts, which are made with additives such as maltodextrin and Blue 2 Lake, have withstood the health trends. Kellogg says they are two of the company's best-selling brands.
When Hostess products returned to shelves in 2013 after being out of production for eight months following the company's bankruptcy, retailers placed orders for 50 million Twinkies and nearly 40 million Hostess CupCakes in the first two weeks.
Food giants like General Mills thought switching to simpler ingredients would help revive lackluster sales of goods such as cereal and canned soup. Some consumers also have cited health reasons for wanting to steer clear of artificial dyes in particular. That didn't stop an outpouring of nostalgia when the company announced its new formula.
On Twitter after the death of Classic Trix, people posted messages such as, "I genuinely feel bad for the kids that never got to experience the old Trix cereal," and "My childhood fading away with the colors of Trix cereal."
Rabobank food industry analyst Nicholas Fereday said the revival of Classic Trix could be called " Trix Shameless. "
Part of the problem for Trix was that General Mills' food scientists said they couldn't replicate the vibrant red and neon blue-green corn puffs with fruit and vegetable juices. Besides producing a bland color, the juices and extracts gave the cereal a different taste.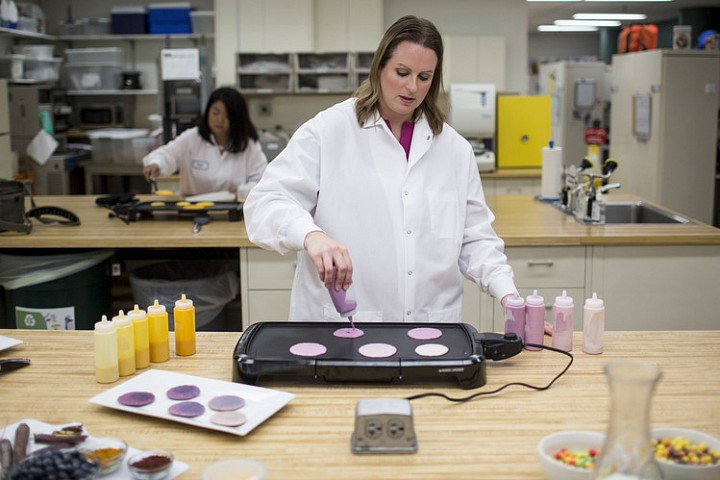 Trix has long marketed itself as a cereal for kids. Its commercials have featured its floppy-eared mascot, the Trix Rabbit, repeatedly getting rebuffed in his efforts to wrest the cereal from children. They end with the slogan, "Silly Rabbit, Trix are for kids."
Alex Guarnaschelli, a chef on the Food Network's Iron Chef and Chopped reality television shows, said she occasionally enjoys childhood favorites, such as Fruity Pebbles cereal, because the look, flavor and smell are nostalgic. The experience is also liberating, she says, because her mom wouldn't let her eat sugary cereal as a child.
"We either had granola in a box with people backpacking on a mountain on the cover, or an all-natural amaranth flake," Ms. Guarnaschelli said.
Kraft Heinz Co. tried a different tack when it quietly removed artificial yellow dye from its boxed macaroni and cheese in 2015. Its signature yellow color was easier to replicate, so after months of selling the new recipe, most consumers didn't notice a difference, the company said. It then began an ad campaign with the slogan "It's changed. But it hasn't."
General Mills said it's not planning to bring back artificially colored Fruity Cheerios or other cereals it replaced with natural ingredients, because it hasn't received as many complaints about those.
The company is delaying swapping some of its other iconic, playful cereal brands with all-natural versions until it can get the new recipes right.
Food scientists are still working on removing the synthetic dyes in its Lucky Charms, Mr. Siemienas, the spokesman, said, because those marshmallow bits are a "big challenge."
More