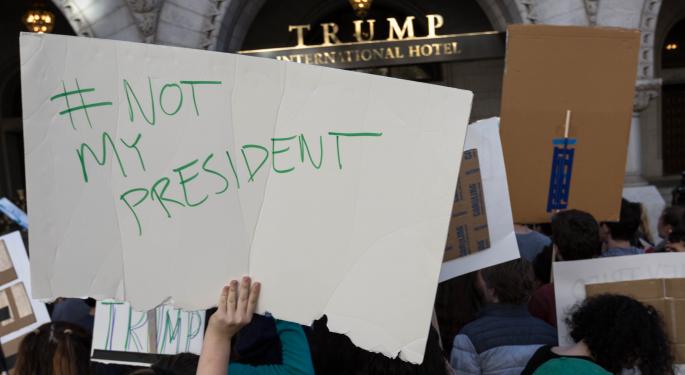 Trump Tower, which houses the headquarters of the business interests of President-elect Donald Trump as well as his residence, despite standing tall and towering with its 58 stories may be casting a shadow on businesses thriving under its nose.
The Tower located on the Fifth Avenue between 56th and 57th Street in Midtown Manhattan, New York City, has among its neighbors companies such as Tiffany & Co. TIF 2.32%, Nike Inc NKE 0.72%, Ralph Lauren Corp RL 3.37% and Starbucks Corporation NASDAQSBUX either adjacent to the tower or across the street.
Rubbing Elbows Burns
Having a privileged neighbor may not always be a blessing, as these firms have come to realize. Following the surprise election of Trump, a wave of protests, many protesters affixed to the slogan "Not My President," have been sweeping across the country. Unsurprisingly, the epicenter of the protests is around Trump Tower.
Also stifling operations of the firms are the security issues. Tiffany, which reported stellar quarterly results on Tuesday, disclosed that protests and road closures at Trump Tower near its Manhattan flagship store hurt its third-quarter sales. The jewelry retailer expects this problem to continue. The heavy security around the Trump Tower on the Fifth Avenue, a block away from Tiffany's location, has led to a drop in the footfall of the store.
Ongoing Concerns
The security plan for the Trump Tower reveals that his residence will be closely guarded during the remainder of the transition. Measures include closure of area streets to vehicular traffic, restrictions on truck traffic and security checks of pedestrians heading to the stores. A report in DNAinfo said the security plan, which was only revealed partly for safety reasons, would be re-evaluated once Trump's term begins.
The report noted that he NYPD, working with the Secret Service, said they developed a plan that tries to "strike a proper balance" between the safety of Trump and his family and the needs of pedestrians and businesses in the area.
Until things settle down, these companies may have to bear the brunt of the pitfalls arising out of proximity to a man who beat all the odds despite being one of the most maligned personality. The price may be heavy, as seen in Tiffany's confession.
At Time Of Writing
Nike was down 0.14 percent at $50.56.
Ralph Lauren was losing 0.49 percent at $108.08.
Starbucks was down 0.18 percent at $58.07.
Tiffany was gaining 0.92 percent at $81.34.
Image Credit: By Lorie Shaull from Washington, United States [CC BY-SA 2.0], via Wikimedia Commons
© 2016 Benzinga.com. Benzinga does not provide investment advice. All rights reserved.