Contributed by FG Alpha Management for GeoInvesting, LLC
Summary
A CNN India exposé catches four Eros International (NYSE:EROS) associated director/producer/writers on hidden camera discussing methods for laundering money through their films.
Rather than disassociate themselves with these film executives following the exposé, Eros instead worked closely with all of the individuals and even acquired a 50% interest in one of their production companies in 2016.
The apparent ties to money launderers raises serious questions about Eros's use of numerous offshore asset havens and its byzantine entity structure.
Additional questions should be asked about the company's tumultuous financial controls including (a) the use of at least 9 different auditors (b) 12 auditor resignations over the past 4 years and (c) insider allegations of the use of dummy production deals to channel assets to company family members.
In order to protect U.S. investors, today we are calling for a full and thorough investigation of the company.
"Black money is money which is earned through any illegal activity controlled by country regulations. Black money proceeds are usually received in cash from underground economic activity and, as such, is not taxed. Recipients of black money must hide it, spend it only in the underground economy, or attempt to give it the appearance of legitimacy through money laundering. Possible sources of black money include drug trafficking, weapons trading, terrorism, prostitution, selling counterfeit or stolen goods and selling pirated versions of copyrighted items such as software and musical recordings." (Source: Investopedia)
Today we want to present evidence that film directors and producers associated with some of Eros' most prominent films have been caught by the media explaining how to launder "black money" through production and film deals. The details of this type of money laundering could go a long way in explaining many of the critical questions raised about EROS over the last few years. While we are not alleging outright that EROS is involved with money laundering, as others have been, we want to present a slate of circumstantial evidence spanning the course of the last five years that we think should continue to give EROS investors perhaps their most significant cause for concern yet.
We'll also present evidence that Eros has worked closely with film executives who were caught on hidden camera by CNN in 2012 explaining how to launder money through films. In fact, Eros bought a 50% interest in one film producer's company in 2016, claiming to have a "special association" with him and his company.
We have asked several extremely critical questions about EROS over the last month. For those that have not read our last two articles, we highlighted how an EROS co-producer alleged that the company was funneling money to family members through dummy production deals. More recently, we presented evidence indicating that the company may be in the midst of a liquidity crisis following a failed bond pricing in the run up to looming debt maturities believed due at the end of this month.
Today we want to elevate the discussion and present evidence that, surprisingly, we have not seen in Eros court filings or has been detailed by other critics of the company.
The Bollywood industry has a long-standing reputation for money laundering or using "black money" to finance film deals, but Eros had never been openly tied to those allegations. Today, that changes, as we highlight Eros's close links to several key film industry professionals who were caught on video describing methods of money laundering through the Indian film industry.
CNN India Exposé
In July 2012, CNN India ran a piece entitled "Exposed: What Black Money Buys in Bollywood". The exposé featured an undercover reporter posing as an investor seeking to launder "black money" through the film industry. Hidden camera conversations with producers/directors/writers Vashu Bhagnani, Anubhav Sinha, Anees Bazmee and Rajeev Kaul revealed how investor black money can be laundered through their films.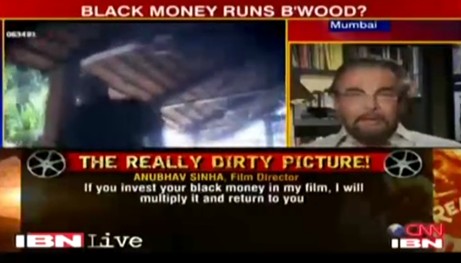 Vashu Bhagnani, Director
During the undercover conversation with CNN, director Vashu Bhagnani made clear that he intended to skirt tax officials and even seemed to boast of his numerous methods of converting illicit money. From the transcript of the video:
Bhagnani: I have many ways to make black money white…but the person needs to be genuine. We should not get caught by income tax officials.

Reporter: So if I have to give you 10 crores, how much in check and how much in cash?

Bhagnani: 8 crores cash and 2 crores check…the paper work will be there only for 2 crores.

Bhagnani: For the case we'll give you distribution rights of the film for 3 states.

Reporter: So we'll start a company to deal with you

Bhagnani: Then we'll do an agreement with you that is similar to what's going on for the past 50-60 years, after you recover your initial investment…whatever profit comes we'll take 50-50…PATCH and you'll get your money in check.

Bhagnani: So...
More