Interesting Charts
The Shanghai Composite completed an intermediate base building pattern by moving above 3,256.74 to establish a new intermediate uptrend.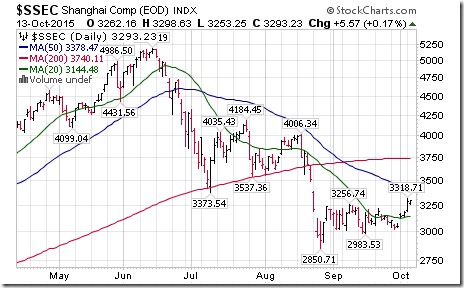 Favourable seasonal influences for the Consumer Discretionary sector, that start on average at the end of this week, are appearing earlier than usual this year. XLY resumed an intermediate uptrend on a move above $77.84. Relative strength already is positive.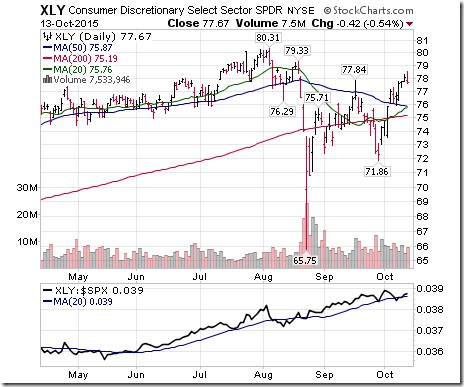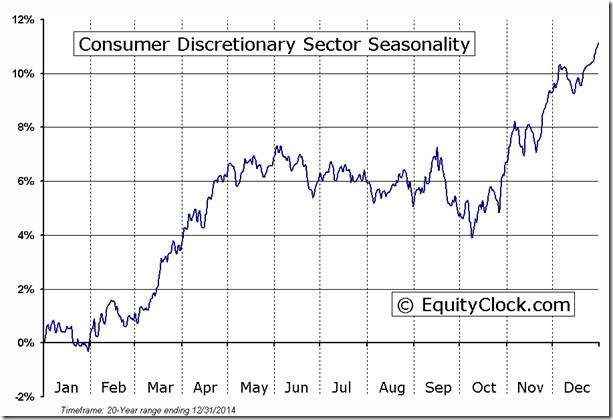 Lumber prices are soaring on greater demand for new homes in the U.S.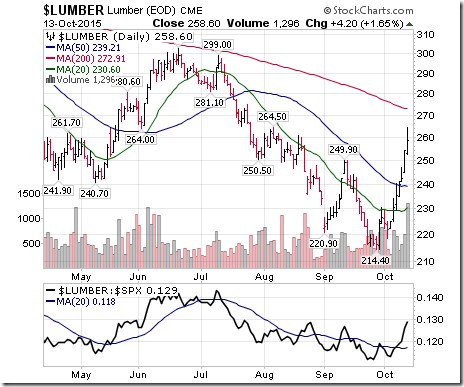 'Tis the season for higher lumber prices!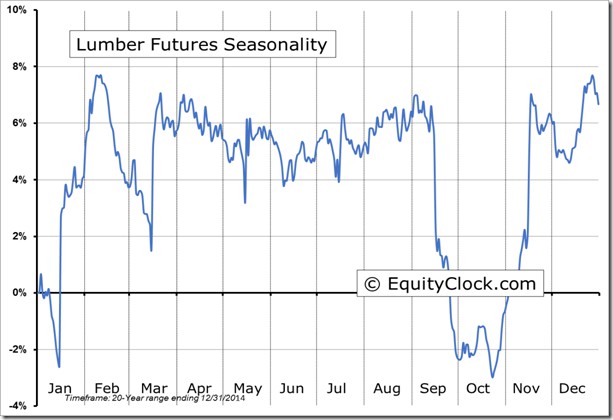 The Technology sector continues to outperform. It's benefitting from takeover action/rumors. EMC is to be taken out on a friendly deal with Dell. Sandisk announced after the close that the company is available for purchase.
'Tis the season for strength in the sector until mid-February!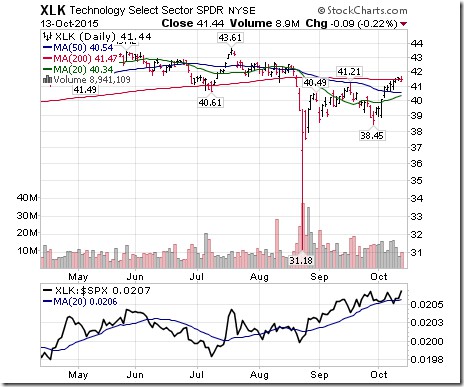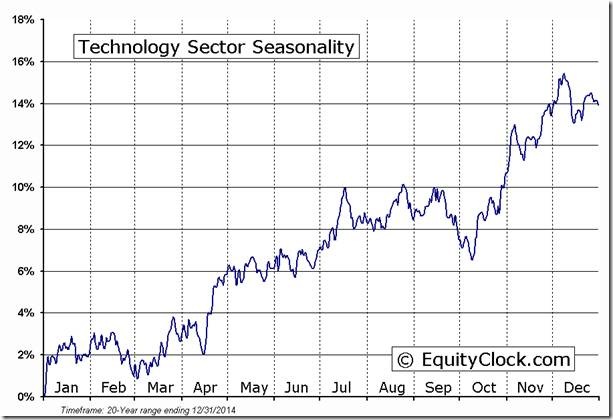 StockTwits Released Yesterday
Technical action by S&P 500 stocks to 11:00: Quietly bullish. Breakouts: $WYN, $TAP, $UNH, $GOOG, $ESS. No breakdowns.
Editor's Note: After 11:00 AM EDT, another three stocks broke intermediate resistance levels:
Cerner, Medtronic and PPG Industries.
Nice breakout by Thomson Reuters above $54.13 Cdn to an all-time high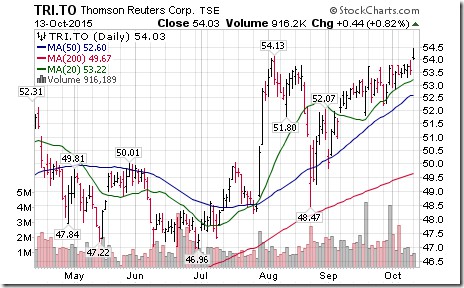 Trader's Corner
Daily Seasonal/Technical Equity Trends for October 13th 2015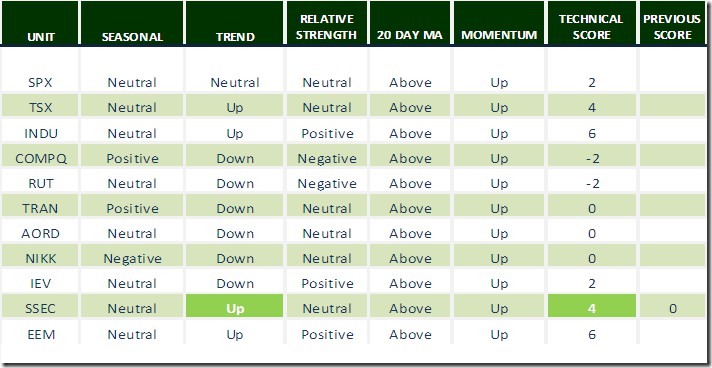 Green: Increase from previous day
Red: Decrease from previous day
Daily Seasonal/Technical Commodities Trends for October 13th 2015
Green: Increase from previous day
Red: Decrease from previous day
Daily Seasonal/Technical Sector Trends for October 13th 2015
Green: Increase from previous day
Red: Decrease from previous day
Special Free Services available through www.equityclock.com
Equityclock.com is offering free access to a data base showing seasonal studies on individual stocks and sectors. The data base holds seasonality studies on over 1000 big and moderate cap securities and indices. To login, simply go to http://www.equityclock.com/charts/
Following is an example:

= = = = = = = = = = = = = = = = = = = = = = = = = = = = = = =
Adrienne Toghraie's "Trader's Coach" Column

Three Choices For Traders
By Adrienne Toghraie, Trader's Success Coach
Someone once said that life without problems would be boring. And yet if this is true, why do so many of us not want to face the major problems that keep us from our goals and our dreams? The answer is fear and discomfort. In my twenty plus years as a trader's success coach, I have found one of the problems for traders is being stagnant in making changes. The fact is that even if a trader thinks that he is avoiding making a choice, he is making a choice of keeping the status quo and having to bear the consequences.
You always have three choices in trading and in life for how to proceed with handling accomplishing a goal or handling a problem:
1. Do what you are doing and accept the current course of action.
Consequences:
Generally, with this action you will get more of the same and in most cases if it is the wrong direction, it will generally get worse.
2. Change your course of direction and adjust along the way to possibly more changes.
Consequences:
This can mean a struggle, discomfort, failure or success, but at least you are more likely to succeed.
3. Or, Divorce yourself from the situation and deal with the issues that result from that change of course.
Consequences:
This usually has the most intense consequence of physical and psychological pain and it does not necessarily mean that you have let go of the problem. Very often a challenge when not handled will resurface in another set of circumstances.
Let us look at how these three choices can relate to trading issues.
John, a professional trader for twenty years decides that it is too late in the game of trading to make changes. He has made millions with his strategy and even though the markets have changed he will not give up the strategy that has made him successful. He said to me "Yes, I don't make as much as I used to, but I'm not going to change at this stage of the game. It is just too much work and I'm afraid to fail."
Chuck another steady trader, but not quite as wealthy as John decided to make changes when his strategy failed. He stopped trading and hired the mentor that I recommended for him. It took Chuck six months to again start to become profitable, but now after a year he is earning more money than ever.
Russ finally called it quits after his pit closed down. A floor trader for over twenty-five years he was not willing to learn electronic trading. In his case it was a good choice that he stopped trading, because he did not have the stamina to change in trading. But Russ decided to receive the lessons he avoided in trading in the restaurant business and lost almost all the money he saved during the time he was a professional trader.
What to do
Write down the pros and cons of each of the three scenarios for the challenge you are facing in life. I then recommend reviewing your list with someone to make sure you haven't left anything out. The person you ask should be someone:
· Who does not have a personal agenda in your life
· With whom you could share confidential information
· Has had experience dealing with these particular issues
Conclusion
While there are many different scenarios in the outcome of how you decide to handle your challenges in trading and in life, it is important that you give yourself the best chance for success. Always know that there is going to be discomfort, but at least when you are the cause and not the effect of the challenge you will feel that at least you gave it every consideration. So weigh out each possible course of action and then come to the decision of what is best for all concerned.
An Evening With Adrienne – Free Webinar
An Opportunity to Ask Questions on the Discipline of Trading
October 21st at 4:30 pm ET
Email Adrienne@TradingOnTarget.com for registration details
= = = = = = = = = = = = = = = = = = = = = = = = = = = = = = =
Disclaimer: Seasonality and technical ratings offered in this report by www.timingthemarket.ca and www.equityclock.com are for information only. They should not be considered as advice to purchase or to sell mentioned securities. Data offered in this report is believed to be accurate, but is not guaranteed.