Bitcoin soared to a new high above $3,400 today, more than tripling in value from around $997 at the start of the year. The digital currency now has a market value exceeding $55 billion. Total value of all cryptocurrencies is more than $116 billion now, per coinmarketcap.com.
Bitcoin is up more than 22% over the past week, thanks mainly to a smooth split in the cryptocurrency into bitcoin and bitcoin cash. Other cryptocurrencies have also surged of late.
Bitcoin's closest rival ether has risen more than 37% over the past week and about 3,300% year-to-date. It has a market value exceeding $25 billion. The surge in cryptocurrencies has also boosted Nvidia (NVDA) and AMD (AMD) stocks as their chips are used for cryptocurrency mining.
Below is the year-to-date bitcoin price chart from CoinDesk: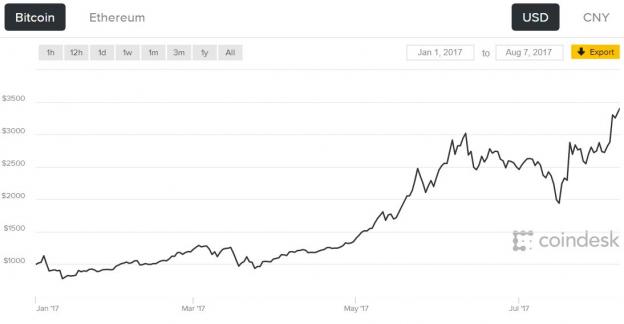 "Hard Fork" Creates Bitcoin Cash
The two-year old conflict over how to expand bitcoin's processing capacity in order to meet increased demand finally came to a resolution. On August 1, a new version of the digital currency--Bitcoin Cash-- was created after the so-called "hard fork" or split. (Read: SEC Reviews Bitcoin ETF—The Skyrocketing Cryptocurrency Explained)
Bitcoin transactions are grouped into blocks limited to one megabyte in size, resulting in a limit of seven transactions per second. This had slowed trading and resulted in higher fees.
Bitcoin cash will be processed in eight-megabyte units and the network would be able to process more than 50 transactions per second. It has mainly been backed by some miners in China.
Major exchanges have so far not supported bitcoin cash. Coinbase, the leading cryptocurrency exchange, initially said they would not support it but later announced that they are "planning to have support for bitcoin cash by January 1, 2018, assuming no additional risks emerge during that time."
After inception, bitcoin cash soared and then fell in a very volatile day of trading. It is currently trading around $269 and has a market value of $4.4 billion. (Read: Ethereum ETF? The Bitcoin Crushing Digital Currency Explained)
CBOE to Lunch Bitcoin Derivatives
Last week, CBOE entered into an agreement with Gemini Trust, the bitcoin exchange run by Winklevoss twins, to use data for bitcoin derivatives products. According to the press release the exchange plans to launch cash-settled bitcoin futures in the fourth quarter of 2017 or early 2018, pending regulatory approval.
CBOE could also consider bitcoin options. Given bitcoin's extreme volatility, these derivatives could become quite popular with investors if the plan wins regulatory approval.
Bitcoin and Ether ETFs Under SEC Review
Earlier this year, the SEC had rejected the ETF proposed by Winklevoss twins but they are now reviewing the decision again. This was not the only bitcoin ETF; there were two more going through the regulatory approval process.
Another bitcoin ETF, proposed by SolidX Management, was also rejected in March. The third one proposed by Grayscale's Bitcoin Investment Trust (GBTC) is being reviewed. (Read: 5 Smart Beta ETFs with Brilliant Returns)
The SEC is also reviewing an ether ETF proposal, filed by the backers of the EtherIndex Ether Trust.
The Bottom Line
Love them or hate them, you cannot ignore digital currencies. The development of cryptocurrencies is an important financial innovation. These currencies are assuming a greater role as medium of exchange and store of value and their importance will grow immensely in the coming years.
At the same time, while the market for digital currencies is slowly becoming more mature, investors should be prepared to stomach violent price swings.
Will You Make a Fortune on the Shift to Electric Cars?
Here's another stock idea to consider. Much like petroleum 150 years ago, lithium power may soon shake the world, creating millionaires and reshaping geo-politics. Soon electric vehicles (EVs) may be cheaper than gas guzzlers. Some are already reaching 265 miles on a single charge.

With battery prices plummeting and charging stations set to multiply, one company stands out as the #1 stock to buy according to Zacks research.

It's not the one you think.

See This Ticker Free >>

Want the latest recommendations from Zacks Investment Research? Today, you can download 7 Best Stocks for the Next 30 Days.
Click to get this free report
Advanced Micro Devices, Inc. (AMD): Free Stock Analysis Report
GOLD (LONDON P (GLD): ETF Research Reports
NVIDIA Corporation (NVDA): Free Stock Analysis Report
To read this article on Zacks.com click here.
Zacks Investment Research
Want the latest recommendations from Zacks Investment Research? Today, you can download 7 Best Stocks for the Next 30 Days. Click to get this free report