Genpact Limited G recently announced the launch of its artificial intelligence (AI) - based platform called Genpact Cora to help improve digital capabilities of enterprises. The platform is an interconnected network of different digital technologies that help companies to tackle business issues.

"Genpact Cora allows our clients to deploy leading digital technologies using a modular and scalable platform built on an open architecture that drives flexibility, agility, and long-term investment protection," said Sanjay Srivastava, senior vice president and chief digital officer, Genpact.

Genpact Cora integrates technologies across three key segments namely, Digital Core, Data Analytics and AI. While Digital Core covers Blockchain and cloud technologies among others, Data Analytics will cover Big Data and Internet of Things (IoT). Machine learning and Data Science will be taken care of by the Artificial Intelligence segment. Reportedly, this is the first-of- its-kind integrated platform and is expected to provide Genpact an edge over others.

We note that Genpact has outperformed the Zacks Outsourcing Market on a year-to-date basis. While the industry lost 3.9%, the stock returned 16.2% over the same time frame.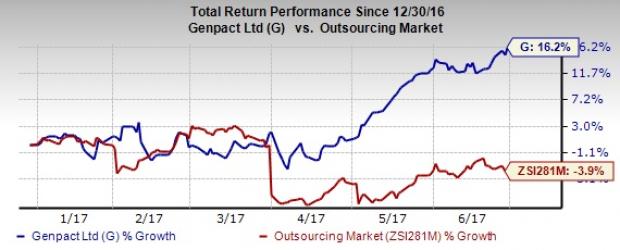 Will AI Move the Needle for Genpact?

Artificial intelligence technologies which include machine learning, natural language processing, and data analysis among others, have been gaining momentum in almost all industries worldwide. Per Tractica, AI application revenues will increase from $358 million in 2016 to $31.2 billion by 2025, representing compound annual growth rate (CAGR) of 64.3%.

Hence, there is significant opportunity for the deployment of AI at enterprises. We believe that Genpact is well positioned to grab this opportunity. The company also announced the acquisition of Rage Frameworks, a provider of AI services on knowledge-based automation technology, in March. The acquisition will meaningfully contribute to Genpact's portfolio, which already includes robotic automation and machine learning.

Rage Frameworks recently published a research report based on survey information from a few senior level business executives. While 82% of the participants stated that their organization will be using AI technologies in 2017, 11% said they would think of starting to use AI. Only 7% of the respondents were negative on adopting the technologies.
Genpact Limited Revenue (TTM)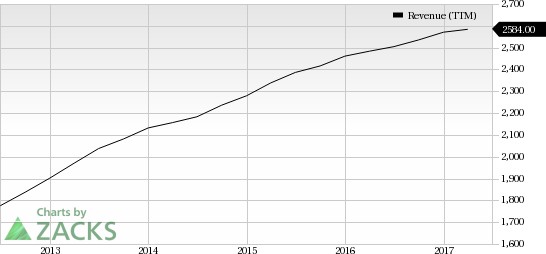 We believe artificial intelligence will provide the company a competitive edge against its peers such as Accenture ACN, Cognizant Technology Solutions Corporation CTSH and International Business Machines Corp.IBM.
Zacks Rank

Genpact currently has a Zacks Rank #3 (Hold). You can see the complete list of today's Zacks #1 Rank (Strong Buy) stocks here.
Today's Stocks from Zacks' Hottest Strategies
It's hard to believe, even for us at Zacks. But while the market gained +18.8% from 2016 - Q1 2017, our top stock-picking screens have returned +157.0%, +128.0%, +97.8%, +94.7%, and +90.2% respectively.
And this outperformance has not just been a recent phenomenon. Over the years it has been remarkably consistent. From 2000 - Q1 2017, the composite yearly average gain for these strategies has beaten the market more than 11X over. Maybe even more remarkable is the fact that we're willing to share their latest stocks with you without cost or obligation.
Want the latest recommendations from Zacks Investment Research? Today, you can download 7 Best Stocks for the Next 30 Days.
Click to get this free report
International Business Machines Corporation (IBM): Free Stock Analysis Report
Cognizant Technology Solutions Corporation (CTSH): Free Stock Analysis Report
Accenture PLC (ACN): Free Stock Analysis Report
Genpact Limited (G): Free Stock Analysis Report
To read this article on Zacks.com click here.