Introduction
Tata Motors is India's largest automobile company, operating in UK, South Korea, Thailand, Spain, South Africa and Indonesia through subsidiaries and associate companies. Among them is Jaguar Land Rover (JLR), the business comprising the two iconic British brands.
Performance
Analyzing the main investment valuation ratios of Tata Motors and its competitors, we conclude that an Indian carmaker is overvalued relative to its book value. Additionally, Tata has the average industry P/E ratio and lower P/S ratio than its competitors.
From the data given, it cannot be said unequivocally whether it's undervalued or not with respect to the others, but there are reasons to believe that the company will remain stable and increase its value. 

Source: Table made by authors, based on data from Amigobulls
Tata Motors is a heavily diversified company: it embraces almost each price segment (Tata Nano Twist, which costs US$2000, was named the world's most affordable car, meanwhile, Jaguar and Land Rover grasps a premium segment). For the Indian market, it produces low-cost compact cars, taxis and SUVs. A vast array of produced vehicles, ranging from microcars to multiton trucks, has always been a strong point. Tata made it possible through a series of M&A deals (Daewoo Commercial Vehicle Company in 2004; Hispano Carrocera in 2004, 2009; JLR in 2008).
JLR, which brings nearly 80% to the operating profit of Tata Motors, reported 76% jump in its US sales in October. This is the second consecutive month of strong sales in US. In September, JLR's US sales had experienced a growth of 61%. US brought 17% to JLR's annual sales in FY15. Land Rover sales in US almost doubled year-on-year, while Jaguar sales ascended by 2%. Tata said consolidated profit before tax fell down to 15.4 billion rupees from 56.4 billion a year ago, showing the weaker sales in China and foreign exchange moves. Despite the -30% decline in China, the company will expand its market share with the new models.
Additionally, the company said a stronger performance in Europe and North America helped compensate weaker sales in China and other emerging markets. Net sales during the quarter went up to 608.53 billion rupees from 601.64 billion a year earlier.
Tata encountered a problem after it had reported a loss of 5,800 JLR vehicles during a series of explosions in the China's Tianjin port on 21st of August, 2015. Ноwever, it didn't have effect on the company's wealth, nor on its development: Tata rapidly regained its positions and now is trading 22% higher than in August.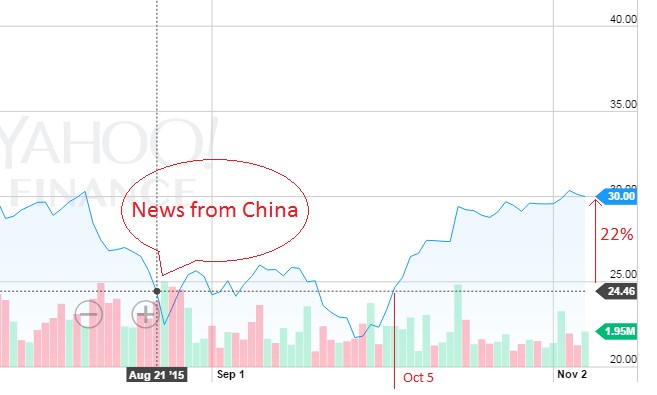 Source: Yahoo Finance
Bringing celebrities out
In a major marketing initiative, Tata Motors has signed up for 2 years the four-time best football player of the world and Argentine captain Lionel Messi as global brand ambassador to promote and endorse passenger vehicles. As it often happens, automotive industry partnerships with big sport or media celebrities leads to a flashy increase of a share price (like it was in Ford Motors, Daimler and Kia Motors).
Indeed, after Ford Motors had signed up the top grossing actor Dwayne Johnson to represent Ford Service, share price skyrocketed, gaining 14%.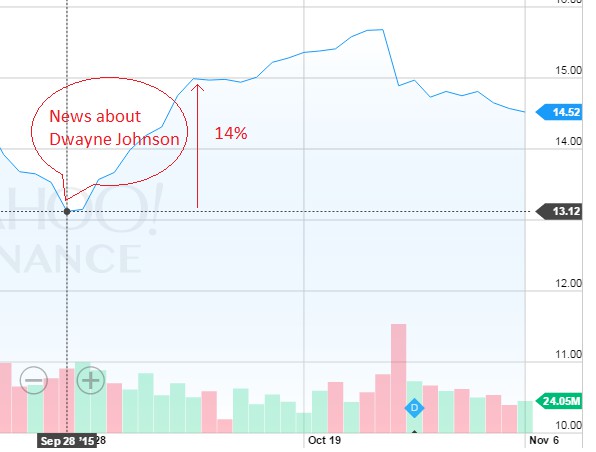 Source: Yahoo Finance
Similarly, a five-year contract extension with Rafael Nadal helped Kia Motors' shares to grow during a week.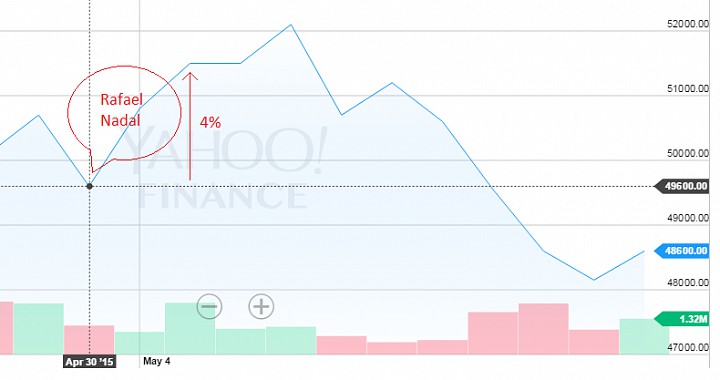 Source: Yahoo Finance
Daimler's partnership with the German number one golfer Martin Kaymer contributed to a 5% increase of its shares during 11 days.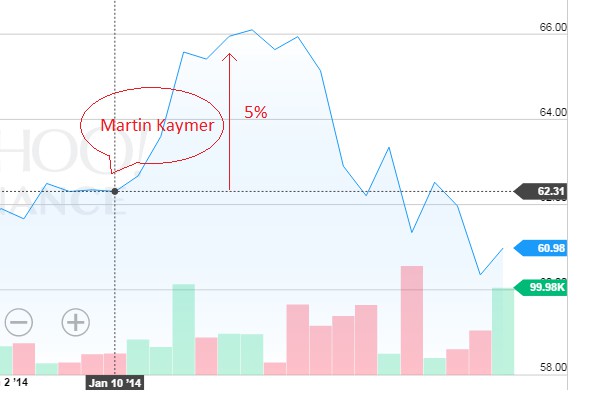 Source: Yahoo Finance
Conclusion
Taking into account Tata's stable performance, growth potential and decent recovery from the events of August, we issue a BUY recommendation on the shares of Tata Motors Limited.
Disclaimer
We are neither holding, nor planning to open any position. We are merely presenting our opinion, intended to be used in the WhoTrades Investment Strategy Contest.