Seagate Technology PLC STX reported impressive fiscal first-quarter 2018 results. Non-GAAP earnings per share came in at 96 cents, surpassing the Zacks Consensus Estimate of 86 cents per share. However, the figure declined 3% on a year-over-year basis.
Revenues of $2.63 billion also topped the Zacks Consensus Estimate of $2.56 billion but decreased 5.9% from the year-ago quarter. Nevertheless, both the top and bottom line figures witnessed a sequential improvement, primarily attributed to strong demand and adoption of Seagate's storage drives.
At the end of the quarter, the company participated in a Bain Capital led consortium. The consortium has entered into an agreement with Toshiba Corporation for the acquisition of Toshiba Memory Corporation. Seagate has committed $1.25 billion for the takeover, which is scheduled for March 2018.
This participation will enable Seagate to enter into an agreement with Toshiba, per which the latter will provide Seagate with NAND supply, thereby helping in its innovation of hard disk drives (HDD), solid state drives (SSD) and hybrid solutions.
Performance in Detail
During the quarter, Seagate shipped a record 70.3 exabytes of HDD storage, with an average capacity of 1.9 terabytes per drive. The company shipped 27.2 exabytes for the enterprise HDD market, each with an average capacity of 3.9 terabytes.
Notably, the advancement and accelerated growth of cloud storage technologies are tailwinds for Seagate's performance. Management believes that the HDD product suite is ready to cater to the demands of the market.
Nearline products' average capacity per drive crossed 5.4 terabytes. Management noted that the company's 10-terabyte helium nearline product was one of the top revenue generators in the quarter. Around 1 million units were shipped, which was thrice as much as in the previous quarter. Growth in the 12-terabyte helium nearline product line was also encouraging. Given the impressive customer feedback, the company expects to bank on the market adoption of these products.
Within the edge and customer verticals, the notebook compute segment saw 37% year-over-year growth with exabytes increasing 75% from the year-ago quarter. Gaming business revenues were up 13% sequentially.
Non-HDD segment revenues witnessed a 17% year-on-year increase and a 30% improvement sequentially to $242 million.
Seagate Technology PLC Price, Consensus and EPS Surprise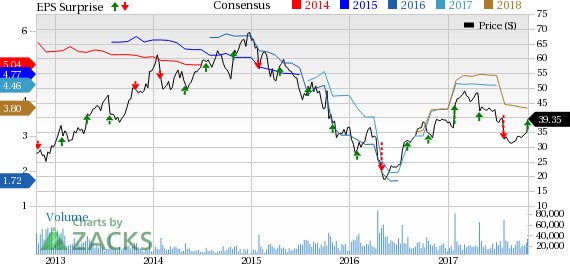 Seagate Technology PLC Price, Consensus and EPS Surprise | Seagate Technology PLC Quote
Margin Details
Non-GAAP gross margin was 29%. Non-GAAP operating expenses were down 17% on a year-over-year basis to $408 million. This decrease in expenses was primarily due to certain cost improvement initiatives.
The company divested a major portion of its high performance computing assets, which is anticipated to result in a savings of approximately 20 million a year.
Balance Sheet and Cash Flow
Seagate ended the September quarter with cash and cash equivalents of $2.3 billion and 289 million ordinary shares outstanding. The company's board has approved a quarterly dividend payment of 63 cents for the September quarter to be paid on Jan 3, 2018.
During the quarter, cash flow from operations was $237 million and free cash flow was $113 million.
Guidance
Management anticipates, in an era of advancement of cloud solutions and growing cloud and silicon storage business segments, second-quarter revenues to increase 3% to 5% compared to the first quarter, backed by a strong growth in exabyte demand.
Non-GAAP operating expenses are expected to decrease 2% to 3% from the prior quarter with further cost stringent approaches.
Conclusion
Notably, with the huge transformations in the storage industry mobile cloud is taking the center stage. This in turn has boosted the deployment of high-capacity mass storage products, which is beneficial for Seagate.
The company's efforts in the improvement of areal density with the ramping up of its heat assisted magnetic recording (HAMR) technology, which is expected be shipped in 2019, is yet another positive for the company.
Zacks Rank and Key Picks
Seagate currently has a Zacks Rank #3 (Hold).
Better-ranked stocks in the broader technology sector include Applied Materials, Inc. AMAT, NVIDIA Corporation NVDA and Vishay Intertechnology, Inc. VSH, all sporting a Zacks Rank #1 (Strong Buy). You can see the complete list of today's Zacks #1 Rank stocks here.
The long-term earnings growth rate for Applied Materials, NVIDIA and Vishay are projected at 17.1, 10.3 and 20.6% respectively.
Today's Stocks from Zacks' Hottest Strategies
It's hard to believe, even for us at Zacks. But while the market gained +18.8% from 2016 - Q1 2017, our top stock-picking screens have returned +157.0%, +128.0%, +97.8%, +94.7%, and +90.2% respectively.
And this outperformance has not just been a recent phenomenon. Over the years it has been remarkably consistent. From 2000 - Q1 2017, the composite yearly average gain for these strategies has beaten the market more than 11X over. Maybe even more remarkable is the fact that we're willing to share their latest stocks with you without cost or obligation.
Want the latest recommendations from Zacks Investment Research? Today, you can download 7 Best Stocks for the Next 30 Days.
Click to get this free report
Seagate Technology PLC (STX): Free Stock Analysis Report
NVIDIA Corporation (NVDA): Free Stock Analysis Report
Vishay Intertechnology, Inc. (VSH): Free Stock Analysis Report
Applied Materials, Inc. (AMAT): Free Stock Analysis Report
To read this article on Zacks.com click here.
Zacks Investment Research