Today, we got US New Home Sales data for July. The headline number disappointed because it came in at 412K and missed the forecast of 426K. It was also down from the 422K print from June.

New Home Sales:


(click to enlarge; source: forexfactory.com)
It's not so bad:
However, we know June's reading was revised up from 406K. Also, if you look at the trend in New Home Sales, you will see that the readings have been improving since 2011, and 2013-2014 has been strong. Furthermore, we had 3 data points for housing earlier this month - existing home sales, housing starts, building approvals. These all showed improvements in July, and beat forecasts.
So, traders shouldn't get too hung up on this disappointing data. Though in the near-term, the non-positive US data might open up to the USD to pare its opening gains this week.
USD Reaction: The 1H USDX chart shows a bullish gap that started the week as the index rallied to fresh highs on the year around 82.60. Let's say we do get this dip to "fill the gap". The market is still bullish. As it nears 82.30, it will meet a rising trendline and the 50-hour simple moving average. IF the RSI is also around 40, be ready for buyers to keep the USD strong.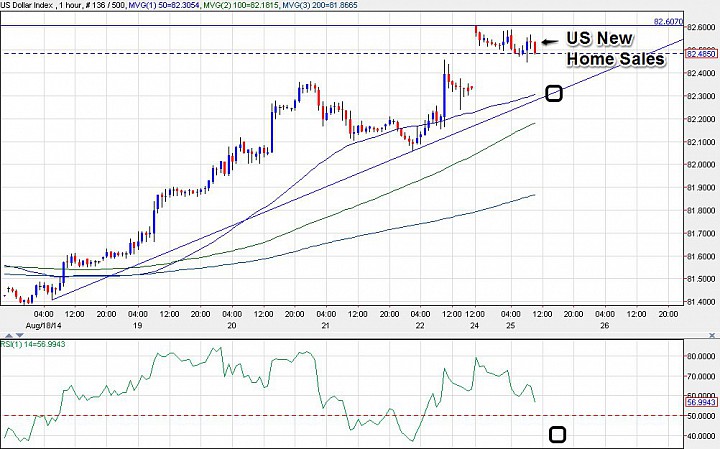 (usdx 1h chart 8/25; click to enlarge)