On Wednesday, we got what might fairly be characterized as the first sign that Brazil has reached the point of no return. 
The country's recent woes are no secret and the S&P downgrade served notice to the entire world that that at least some very "serious" people believe that the negative feedback loop between the country's economic and political crises may soon serve to tip one of the world's most important emerging economies into chaos. 
But what happened on Wednesday marked a new low. By almost all accounts, the move by Brazilian lawmakers to uphold 26 of President Dilma Rousseff's 32 expenditure vetoes should have given the plunging real some respite. Only it didn't. The BRL's harrowing slide continued unabated, forcing the central bank to intervene with swaps and an FX credit line in what Rabobank's Christian Lawrence says is a pretty clear sign of "panic".
The fact that the currency did not stabilize after Rousseff's vetoes were upheld seems to indicate that, at least in the near-term, nothing can stop the BRL from falling further and indeed that assessment is consistent with the idea that a prolonged period of currency weakness is necessary if Brazil is to mark a proper "adjustment." 
On the heels of Wednesday's carnage it wasn't hard to predict what would happen on Thursday and sure enough, the BRL is plunging anew after consumer confidence for September came in at the lowest level on record.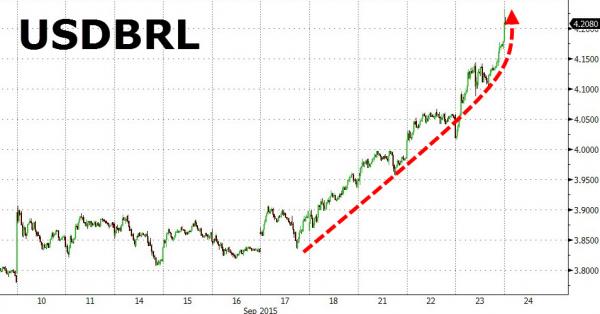 The headline print was 76.3, but as you can see from the following look at the subcomponents, there's a marked disconnect between reality and "hope":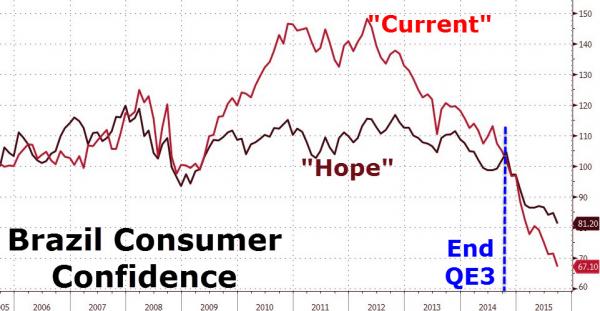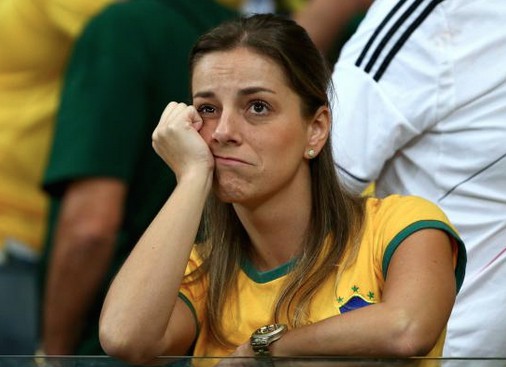 Here's Reuters:
Brazilian consumer confidence fell to an all-time low for a third straight month in September as a deepening political crisis stoked pessimism among families already struggling with inflation and unemployment, a private survey showed on Thursday.

 

The Getulio Vargas Foundation (FGV) said its confidence index fell to 76.3 in September, the lowest since the data series began in 2005, from 80.6 in August.

 

"It will take a sequence of good economic news and the political tensions to ease in order to change this scenario," FGV economist Viviane Seda Bittencourt said in the data release posted on FGV's website.
Yes, a "sequence of good economic news and the easing of political tensions" is necessary, and because neither of those things has any chance of actually happening, don't expect Brazilians' outlook to brighten any time soon.
We also got a look at unemployment for August and the picture wasn't pretty there either, as the 7.6% print represents a remarkable increase from a year ago, when unemployment stood at just 5%. "We expect the labor market to deteriorate further. Policy tightening, depressed consumer and business confidence, and tighter financial conditions are expected to lead to deep recession in 2015-16, visibly higher unemployment rates in 2015 and 2016, and declining real wage growth," Goldman laments.

Meanwhile, the central bank is out with its latest quarterly inflation report which unsurprisingly suggests that pass-through from the BRL debacle will weigh heavily going forward. Here are the bullets:
BRAZIL'S 2016 CPI AT 5.3% IN REFERENCE OUTLOOK; WAS 4.8%

BRAZIL'S 2015 CPI AT 9.5% IN REFERENCE OUTLOOK; WAS 9%

BRAZIL'S 2016 CPI AT 5.4% IN MKT OUTLOOK; WAS 5.1%

BRAZIL'S 2015 CPI AT 9.5% IN MKT OUTLOOK; WAS 9.1%
Here's Goldman on why, despite the outlook for inflation, a Selic hike isn't likely:
In all, notwithstanding the deep economic recession and depressed consumer and business sentiment, the current balance of risks for short-term inflation is not favorable and demands that at the least monetary policy remains vigilant. And one could argue that given the drifting currency, deterioration of inflation expectations and expected weaker contribution of fiscal policy to disinflate the economy, the balance of risk for inflation would demand additional near-term rate hikes in order to really force inflation down to the target by end-2016. However, given the rapidly deteriorating real activity picture and heightened political/institutional noise and uncertainty, near-term rate hikes are unlikely (unless the authorities fail to stabilize the currency). After all, the Copom has been reiterating that "the remaining risks for the secure convergence of projected inflation to the target in 2016 are consistent with the lagged and cumulative impact of the monetary policy actions, but demand that monetary policy remains vigilant in case of significant deviations of projected inflation from the target."

 

Notwithstanding the fact that projected inflation for year-end 2016 has deviated further from the 4.50% target we are of the view that rather than additional Selic rate hikes the Copom will instead opt to keep the policy rate at the current 14.25% restrictive level for a longer period of time in order to continue to disinflate the economy and assure convergence of inflation to the target by some time in 2H2017. After all, according to our proprietary Real Financial Conditions Index (FCI), overall financial conditions have tightened very significantly in recent weeks (driven by the steepening of the yield curve and higher CDS spreads), and will likely turn even more restrictive/contractionary by 1Q2016 when, due to high base effect, headline inflation is projected to moderate to below 8% from a projected 9.5% in 2015. Furthermore, the current level of macroeconomic and political uncertainty is so high that more negative and disruptive tail-event economic scenarios cannot be altogether ruled out.

 
The takeaway there is that the gap between Copom's target and reality is widening.
And then there was this:
BRAZIL CENTRAL BANK SEES 2015 GDP -2.7%,; PRIOR -1.1%
So in other words, the inflation-growth outcome (i.e. stagflation) is set to get materially worse after hitting a decade low in Q2, which of course means consumer confidence will continue to make new lows and that, in turn, portends further trouble in the most important indicator of all for Brazil, shown in the following chart: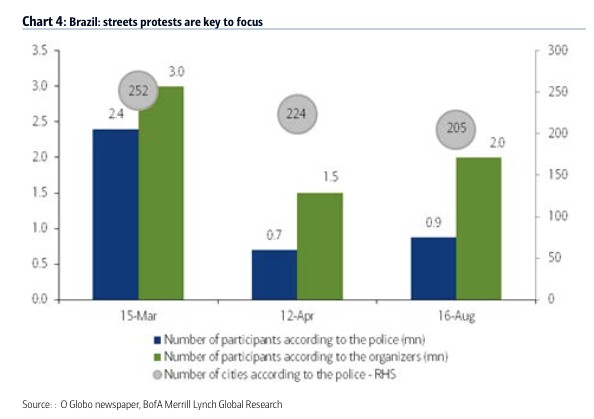 *  *  *
Bonus chart (CDS still blowing out to post-Lehman wides):